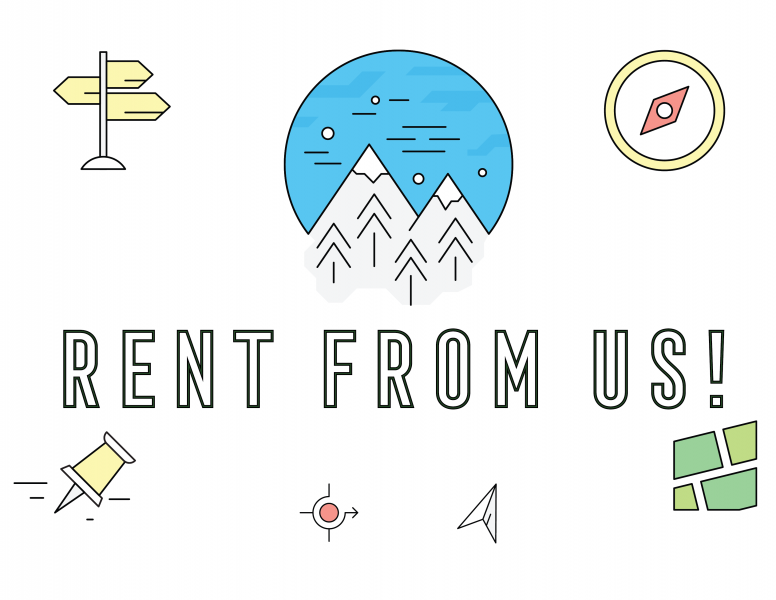 Wilderness Adventure Rental Equipment
Do you need equipment for your next outdoor trip? Rent it from us!
Equipment is first-come, first-served priority, availability is not guaranteed. To reserve equipment there are multiple options.
Online form on our website [1]
Email: vlucatero@csustan.edu [2]
Call (209)667-3754
Reservations are essential and should be made two business days (M-F 8AM-4PM) prior to pick-up so we can prepare the equipment for use. Reservations that are not made two days prior are not guaranteed for rental and will incur a rush processing fee. Appointment for pick-up is necessary. Please allow enough time to set up equipment for inspection when renting and returning.
A current California State University Stanislaus I.D. or a valid picture I.D. must be presented, and payment made in full before the equipment may leave the building. You must be 18 or older to rent equipment. Equipment not returned to the office prior to 4:00 PM of the due back day will be charged the daily rental fee for every day it is late. There will be an automatic $10.00 fee for equipment that is returned in disarray, wet, or dirty. Replacement costs will be determined by the current outfitter retail price during the period of the rental, plus shipping, and taxes for damaged or 
Click on item to view picture.
WARE Rentals (printer friendly version). [3]pdf
General Outdoor
Daily Rentals
Rush Requests

RESOURCE ITEMS: BOOKS, MAPS, VIDEOS

$1.00

N/A

Camp Lighting

 

 

Black Diamond Spot Headlamp (without batteries)

$4.00

$6.00

Electric Orbit Lantern- 45 Lumens (without batteries)

$4.00

$6.00

Coleman Deluxe Perfectflow Instaststart Lantern

$4.00

$6.00

 

Camp Kitchen

 

 

Camp Coffee Pot

$2.00

$4.00

Guyot Designs Spatula/Spork Set

$2.00

$4.00

MSR Alpine 4 Pot Set with Pot Grips

$4.00

$6.00

Camp Dinner Plates, Cups, silverware (setting for 2)

$4.00

$6.00

Cast Iron Dutch Oven (8 qt)

$4.00

$6.00

Cast Iron Griddle

$4.00

$6.00

Cast Iron Frying Pan

$4.00

$6.00

1-Burner Propane Camp Stove

$10.00

$15.00

2-Burner Propane Camp Stove

$10.00

$15.00

MSR Fuel Bottle 20 oz. (bottle only, no fuel)

$2.00

$4.00

MSR Fuel Bottle 30 oz. (bottle only, no fuel)

$2.00

$4.00

Propane Canister (each)

$4.00

$6.00

MSR 6L Collapsible Dromedary Bag

$4.00

$6.00

MSR 10L Collapsible Dromedary Bag

$4.00

$6.00

Water Cooler

$5.00

$8.00

Ice Chest Cooler (100 quart)

$8.00

$12.00

10'x12' Blue Tarp

$2.00

$4.00

 

Tents (Rental by Reservation Only)

 

 

Mountain Hardware Drifter Pack Tent, 2-Person

$15.00

$20.00

Mountain Hardware Drifter Pack Tent, 3-Person

$15.00

$20.00

4-Person

 
 

6-Person

 
 

 

Sleeping Bags and Pads

 

 

Mountain Hardware Lamina 20 Degree Mummy Sleeping Bag

$10.00

$15.00

Synthetic 30 Degree Rectangular Sleeping Bag

$5.00

$8.00

Sleeping Pad (Closed-cell Foam)

$3.00

$5.00

 

Backpacking Gear (Rental by Reservation Only)

 

 

Deuter Aircontact Backpacks 65+10

$10.00

$15.00

Deuter Aircontact Backpacks 60+10 SL

$10.00

$15.00

Deuter 45+ Guide, Deuter 40+ Guide SL

$10.00

$15.00

Deuter 40+ Guide SL

$10.00

$15.00

MSR Whisperlite Backpacking Stove (without fuel)

$10.00

$15.00

GSI Spice Missile Set

$2.00

$4.00

U-Dig-It Trowel (Small Backcountry Shovel)

$2.00

$4.00

SteriPEN Adventurer with FitsAll Funnel

$7.00

$10.00

 

Climbing Gear

 

 

Black Diamond Impact Crashpad

$10.00

$15.00

Bouldering Pad

$10.00

$15.00

Evolv Climbing Shoes

$5.00

$7.00

Black Diamond Nut Tool

$3.00

$5.00

Chalk Bag

$3.00

$5.00

 

Sandboarding (Rental by Reservation Only)

 

 

Sandboard + Wax

$25.00

$40.00

Safety Flag

$5.00

$8.00

 

Picnic Fun

 

 

Football

$2.00

$4.00

Soccer

$2.00

$4.00

Outdoor Volleyball

$2.00

$4.00

Volleyball Net Set

$5.00

$8.00

Bean Bag Toss Set

$5.00

$8.00

Croquet Set

$5.00

$8.00

Perfect Pitch Washers

$5.00

$8.00

Bocce

$5.00

$8.00

Horseshoes

$5.00

$8.00