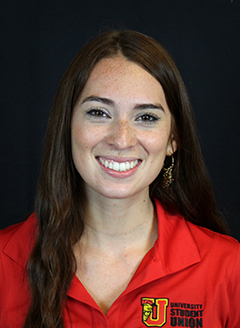 Hello fellow Warriors and welcome to Stan State!
I am both honored and excited to be your University Student Union Board Chair this upcoming 2017-2018 Academic year.  This will be my third year with the organization, and I along with Vice Chair, Jennifer Galeana-Vasquez and the USU Board of Directors, will strive to ensure that the growth of the organization will be everlasting. Our University Student Union is a community centered gathering place where students near and far can have a home away from home at Stan State. Whether living on campus, commuting to campus each day or somewhere in between, the USU offers a multitude of programs and services that give each student the opportunity to find his or her niche within the campus community. Recently, we finished celebrating the Union's 39th birthday last Spring and will now open our arms to the new Stan State Student Center that will soon begin construction following this fall semester.
Although we will be missing our beloved building, you can be rest assured that the new center will offer a variety of study spaces, vendors, and an overall beneficial atmosphere that will help to enhance the beautiful campus we take pride in. Not only will there be more to offer in the programs and services sense, but also within the overall college experience. One thing I have learned from my three years at this University thus far is that learning--specifically acquiring key skills needed to be successful in the future--does not simply happen in the classroom. Whether it be leadership programs, Greek life, athletics, clubs, organizations or even attending sporting events, it is important that we take pride in our school and get involved as much as possible.
Take advantage of all this college has to offer and make the most out of the time you spend here. Don't be afraid to take risks, challenge yourself, meet new people and most importantly grow as an individual. These are the times to make mistakes and learn from them to better prepare you for the future. I hope you see the beauty and benefits this campus has to offer, and learn to love it just as much as I do. Have a wonderful time here and see you around campus Warriors!
Thank you,
Allysa Gonzales
University Student Union Board of Directors Chair
Office: 202F
Phone: (209) 667-3823
Email: unionboardchair@csustan.edu [1]