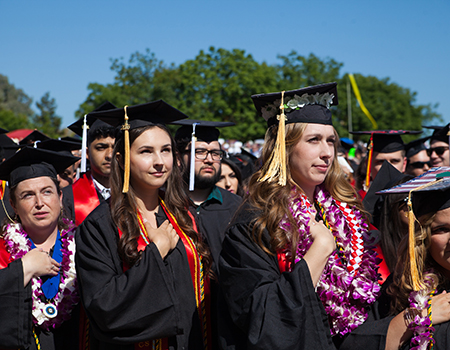 ​In his final commencement address as Stanislaus State president, Joseph F. Sheley presented the graduating class with a message very consistent with the tone of his four years in the office.
"Ours is a serious University with a serious faculty doing serious work, teaching seriously talented students," Sheley said. "We've been conditioned to think of our University as a fallback school that was thankfully there for those of you who couldn't get away to a big-time university. But it is time erase those doubts so that you speak loudly and clearly about Stanislaus State."
The comments were greeted by enthusiastic cheers from the 2,272 students receiving bachelor's degrees during morning ceremonies Thursday and Friday. On Thursday evening, 672 master's, doctoral and credential candidates were celebrated.
"You know, we've been making headlines nationally for the quality of education at our University, in some cases being ranked right up there with schools like Columbia and Harvard," Sheley said. "It means that you aren't only graduates, you're great graduates and you can compete with any graduates from any school. I don't want you to doubt that."
View graduate profiles, photo albums and more [1]
Sheley, who is retiring June 30, called on his own experience as a product of the CSU system to inspire the graduates. As the first in his family to graduate from college, Sheley earned bachelor's and master's degrees from Sacramento State College, then drove his Datsun east for unfunded doctoral studies at the University of Massachusetts.
"At UMass I walked into a tsunami of name-dropping and pecking order contests, as my big-time peers were shouting out names of their previous schools — like Yale, Columbia, Rutgers, Michigan, and they'd tell you within seconds where they came from. When I told them I went to Sacramento State, their eyes would shift somewhere else to talk to someone with a greater pedigree.
"But I cleaned their proverbial clocks. Within months I was on full-ride funding and president of the graduate student council. I'm not saying this to boast but to tell you that after a CSU education I was ready to compete. My Sac State professors had prepared me to compete, just like all of you sitting here as Stanislaus State graduates are ready to compete. You are ready. Do not blink. Do not wait to be asked. You say right up front that you are a Stan State alum."
Thursday morning's ceremony honored students from the College of the Arts, Humanities and Social Sciences, and the College of Education, Kinesiology and Social Work.
Student speaker Edgar Ricardo Garcia, who earned dual degrees in criminal justice and political science, encouraged his fellow graduates to imagine big dreams and follow them.
"We can look in every direction and see somebody as sweaty as I am, wearing the same funny gown," Garcia said. "But the gown represents the hard work and the ability to memorize as much information as quickly as possible. I'm certain that sitting in these chairs with this funny gown is someone who didn't think the dream of graduating was a reality. Accomplishing this milestone means all our dreams are within all of our hands."
Friday morning's ceremony honored students from the College of Business Administration and the College of Science. Student speaker Sara Machado, a business administration graduate, told her classmates to continue to make the right choices as they diligently follow their own paths.
"We have chosen and we have chosen well," Machado said. "When choosing to study daily or infamously the night before, we walked together — one foot in front of the other — making those choices. All our journeys are different, even though they may look the same to someone else. Because we are college graduates some people might think we know so much, but I humbly say 'no,' that we now only are committed to life-long learning."
Greenlaw "Fritz" Grupe and Phyllis Grupe were awarded Honorary Doctorates of Humane Letters during Friday morning's ceremony. Read the complete biography [2] of the ground-breaking business leaders and supporters of education.
Kevin Vogt, CFO of Hilmar Cheese, and Ron Noble, Stanislaus State Dean of Students, were honored as Alumni of the Year. Read more on Vogt [3]. Read more on Noble [4].
In a tradition now in its fourth year, Sheley honored Golden Grads, who graduated from the University 50 years earlier. Read their biographies [5].
Several awards were presented during the commencement ceremonies:
Molly Crumpton Winter, professor of English, was honored as the Outstanding Professor for 2015.
Josephine Hazelton, a political science major, was awarded the J. Burton Vasche Award, presented to the graduate who displays the highest standards of leadership, service and scholarship throughout his or her college years.
Haide Rocha, psychology major, earned the Geiger-Metzger Award, presented since 1970 to the graduating student with the highest undergraduate grade-point average in courses completed at Stanislaus State.