Whenever he's out in the community, Jerry Anderson doesn't need more than a five-minute conversation with someone to solicit material for Turlock's Charter Cable Local Access Channel 2. 
A media production specialist in Stan State's Office of Information Technology, Anderson's duties including operating the channel that regularly airs Turlock City Council meetings, Ceres City Council meetings, public service announcements and the like. 
In the wake of the stay-at-home order, though, gaps on the channel are no more. 
Turlock Unified School District, wanting to keep students connected to their teachers and their schools, approached Anderson about creating videos to run on the channel and "since then it's been what we call TUSDtv 24/7," Anderson said. 
Spearheaded by Gil Ogden, TUSD's director of student services, and coordinated by Walnut Elementary School teacher Irene Hales and Turlock High video arts and business teacher Kayla Corona, the district has produced more than 100 hours of programming since mid-March when the stay-at-home order began. 
Hales and Corona oversee the taping and editing, Ogden delivers a thumb drive of the videos to Anderson on the University campus, and Anderson loads them to play on television. 
The equipment used for the access channel is old, meaning it doesn't work digitally, so Anderson must take the thumb drive and transfer it to a media player to feed the computer for broadcast. 
He doesn't seem to mind, and he enjoys having the fresh material to broadcast. 
"Several teachers are doing things," Anderson said. "The first episodes they had principals reading books. They do a good job with the editing. They use a green screen and have an image of the book behind the person reading it. There's a group of exercise videos for older and smaller kids, Spanish lessons, science lessons. One teacher taught about coronavirus. 
"And there's information, like where to get free lunches." 
The lessons, which run from five to 15 minutes, aren't intended to replace classroom instruction. 
"What we wanted to do was keep students engaged and provide enrichment," Ogden said. "There are a lot of resources on the internet, but we wanted them to see real teachers from Turlock, real administrators, real staff, and we show student pictures."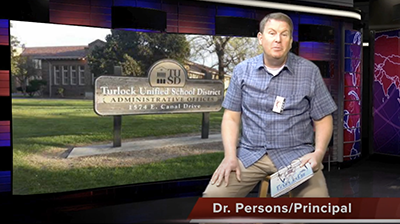 Thus far, about 50 TUSD teachers and administrators have provided lessons, and the innovative step to put them on the cable access channel has drawn praise. 
"One of our hosts, Jeff Persons, who does the elementary-level shows, was at Wal-Mart and a parent of a special ed student came up to him and started crying saying, 'you have been so much help to my son,'" Ogden said.
Additionally, the California Department of Education Tweeted congratulations to TUSD for its innovative production. 
For his part, Anderson is delighted to make sure the new content gets on TV.  
The University has overseen the broadcasts for the access channel since 1999 as a public service, and Anderson has been responsible for the it since arriving in 2004. 
He spent his formative years working for his father's film processing lab on Sunset Boulevard in Hollywood. 
"As soon as I was old enough to do anything in 16 mm film and 70 mm film, I was working in the lab," Anderson said. "We'd duplicate film and process high school films and USC student films." 
Anderson began working as a Los Angeles Rams cameraman, filming the team's practices and games, in 1979, the year the NFL franchise played the Pittsburgh Steelers in the 1980 Super Bowl in the nearby Rose Bowl. 
"My wife was pregnant with our first (of four) children and then, you had to attend three Lamaze classes to be present for the birth," Anderson said. "Our third class was on Super Bowl Sunday, so I gave my pass away. Then the Lamaze teacher called and said the fathers had complained so much she was moving the class to the following Sunday. But I'd already given my pass away, so I tell my son all the time how much I loved him that I'd skip the Super Bowl." 
Anderson's love for investing in the lives of young people comes across in the way he speaks about his work. 
While he's been busy lately as one-of-two OIT staffers on a nearly empty Stan State campus to field calls from faculty or help with Zoom classes, Anderson normally spends part of his time teaching, though he's not on the faculty. 
He hires student workers, often from the communication studies department, to work in OIT. 
"They learn how to do front-end TV, how to edit in studio and how to live edit," Anderson said. "It's all training for our Commencement ceremonies. We do a 13-camera live shoot of Commencement and it's all done by students and broadcast on the Cable access channel, Livestream and Facebook Live. 
"It gives students hands-on experience. I've had a couple students graduate and become anchors. One in New York is an associate producer. When they go in a TV truck, they're not thrown off as editors and producers." 
Teaching them allows Anderson to follow the same philosophy he uses when he gladly handles the responsibility for Channel 2, which the University does free of charge. 
"It's an opportunity to give-back," Anderson said. "It's like umpiring Little League games for free. I don't have kids in Little League, or grandkids. You just do it to give back."