2020-2021 Honorees Exemplify Spirit of Tech Exploration, Inclusiveness and Community  
Stanislaus State's Jasmin Cornejo, Stephanie Gamboa and Vanessa Hernandez earned national recognition as Student Scholars of the Computing Alliance of Hispanic-Serving Institutions [1] (CAHSI).
The organization committed to increasing representation of Hispanics in computing in both higher education and the workforce, named 11 undergraduate student scholars this year, eight of them Latina. There is no monetary award, but rather the recognition as a scholar.
Applicants, who are majoring in a computing field, had to demonstrate exceptional achievement in technical knowledge and service to the community, and are students at one of the more than 40 higher education institutions that are CAHSI members.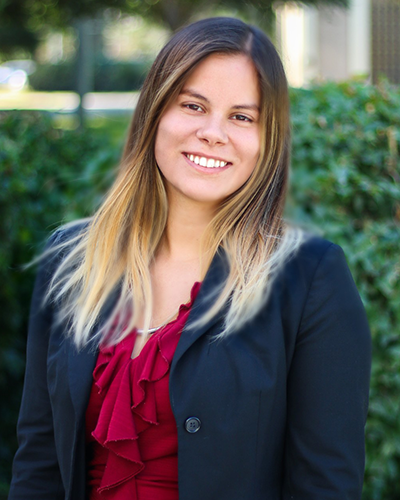 Jasmin Cornejo's journey to becoming a CAHSI Student Scholar is inspirational.
Cornejo's father was born in Mexico and her mother in Puerto Rico. Neither had an education beyond middle school, and even though she had moments of self-doubt, Cornejo never wavered in pursuing a higher education.
As she is expected to graduate with a B.S. in Computer Science and a minor in mathematics in the spring 2021, Cornejo said Stanislaus State has helped her work toward a degree and a career in the tech industry in numerous ways.
"I feel that Stan State's smaller class sizes really helped me develop a connection with the staff on campus," Cornejo said. "In a larger school, I may not have approached the professors so easily. "It's a culmination of beautiful people pushing each other for greatness."
Cornejo credits Computer Science Professor Melanie Martin and McNair Scholars Program Director Araceli García with keeping her on the right track and providing inspiration.
While at Stan State, Cornejo has taken part in several campus and community activities, including organizing the campus's first "hackathon" and participating in LSAMP [2] research. While being involved, it was Cornejo's completion of the campus Honor's Program that qualified her to be a CAHSI scholar, a title she views as significant.
"It means being a leader, an advocate and a safe person to talk to," Cornejo said. "I am a Latina woman in computer science, and I am hoping that I can help the next generation of undergraduates in the years to come."
Cornejo's goals after graduation are to attend graduate school to obtain her Ph.D. in Computer Science while continuing to do research involving artificial intelligence, robotics and data analysis.
Reflecting on her time at Stanislaus State, Cornejo gives high praise to the campus and the resources provided to her and her peers.
"Stan State has helped me put my best foot forward in my career," Cornejo said. "They really give you the resources to succeed. As a student, you just must take charge and utilize those resources, and I believe I did."
Cornejo believes that no matter who you are, you can have a fun and impactful experience at Stan State as long as you put in the work and have a positive attitude.
"Get involved. Get to know your professors and, most importantly, have fun doing so!" 
Stephanie Gamboa has demonstrated that strength and courage are possible if you truly believe in yourself. Even through the countless obstacles she had to overcome, she never stopped chasing her dream. This ultimately led her to discover the importance of stepping outside of your comfort zone in order to grow as a person.
Gamboa is pursuing a B.S. in Computer Science and will graduate in December. Her goal after graduation is to contribute to the technology field in a way that will continue to help improve everyday life.
Like many first-generation students, Gamboa was nervous with countless worries about college. Her aunt, a Stan State alumna, recommended the University and when Gamboa toured the campus, she immediately fell in love with the atmosphere and small class size.
Gamboa faced some struggles while navigating her way through college. She often felt like she did not belong, lacked confidence and battled with imposter syndrome — when some individuals doubt their skills and despite past accomplishments and have a persistent fear of being exposed as a "fraud."
Gamboa worked her way through these challenges and demonstrated that hard work pays off. She has received several honors and awards including being recognized as a CAHSI Student Scholar.
She often sought advice from her professors about possible career paths, which motivated her to get involved in her department. That outreach allowed Gamboa to find like-minded individuals and build a supportive community.
"Daehee Kim was the first professor who made me believe in myself and my abilities," Gamboa said. "He continues to motivate me in my career path and for that, I am truly thankful.
"Melanie Martin has always supported me and believed in my leadership abilities. She helped open the door to opportunities I would have never imagined. I would not have been able to accomplish what I did if it were not for these two professors."
Stan State is leaving a lasting impression on Gamboa. "My best memories are that I've had the fortune of being a National Science Foundation STEM Scholar," Gamboa said. "As a scholar, I was given the opportunity to travel to Florida for a conference and talk with real-life engineers. Additionally, I was able to meet other females in computer science and share my personal experience with them. I have also created great memories with close friends. All of the late nights in campus buildings spent coding are the best moments to reflect on."
Gamboa's advice for current and future students: "Learning goes beyond the classroom. To master a subject, you must take the time to practice and learn. It is never too early to start investing time outside of class by getting involved in clubs and internships. Build a community of friends with similar goals and build relationships with professors. College is more than just schoolwork. Make the most out of it."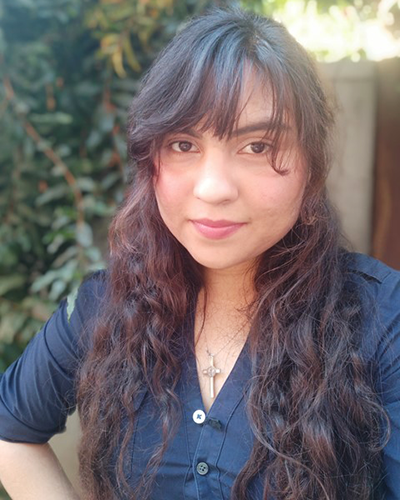 ​Vanessa Hernandez came to Stan State without a specific major in mind but taking two years of general education courses helped her to find her path.
"When I was a freshman and sophomore, I had the chance to take classes in different majors, which allowed me to explore computer science," Hernandez explained.
As she prepares to graduate at the end of the fall 2020 semester with a bachelor's in Computer Science and a minor in chemistry and head to graduate school. Hernandez will take with her the prestigious honor of being a CAHSI student scholar. Hernandez said that being a CAHSI scholar can help her give back to the community she cares about deeply. 
"Being a CAHSI scholar means a lot to me, personally," Hernandez said. "It has given me the opportunity to be part of a tech community that helps minorities succeed."
Attending Stan State, which is located near her hometown of Modesto, has helped Hernandez in numerous ways. She participated in several research groups including the Alliance for Minority Participation (LSAMP [2]), which she described as valuable experiences she cherishes.
Hernandez credits the many people who helped her advance to where she is today.
"Stan State has given me a great support system full of mentors, professors and peers," Hernandez said, mentioning specifically Computer Science Professor Melanie Martin and Associate Professor of Chemistry Elvin A. Aleman, who helped her apply for scholarships, conduct research and attend numerous conferences.
Although many individuals on campus played important roles in Hernandez's academic career, her family remains her biggest influence.
"They always support me 100 percent in what I'm studying and have given me the motivation to believe in my capabilities," she said.
Hernandez is excited to see what the future holds as she looks to enter the tech industry post-graduation. As for those students who are still early in their academic journey, Hernandez offered some advice: "Don't be afraid to explore different research groups or different majors. Find something you enjoy."