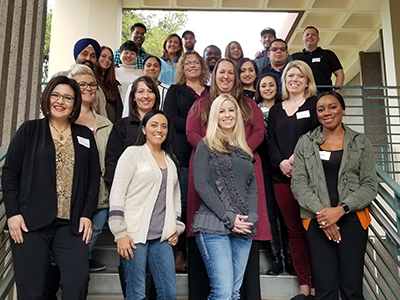 Students enrolled this spring in the Family Nurse Practitioner (FNP) master's degree program
Legacy Health Endowment in partnership with Livingston Community Health has announced a $1.6 million gift to California State University, Stanislaus for the purpose of establishing a family nurse practitioner (FNP) master's degree program at the Turlock campus.
Stan State plans to use the gift to support tuition assistance for students who plan to live and work in the region and for mentoring initiatives that will connect them with local healthcare professionals. The gift will also support initial programmatic costs associated with starting the FNP program.
"We could not be more grateful for this transformational gift, which will significantly enhance the Stanislaus State School of Nursing," said Stan State President Ellen Junn. "Our University is here for the purpose of preparing our region's workforce, and there is a great need for nurse practitioners in the Central Valley."
The gift is an example of how Stanislaus State and local businesses and organizations are able to partner for the purpose of addressing educational needs specific to the region.
This spring, 24 students are already enrolled in the program working toward their master's degrees. Future cohorts will enroll up to 30 students. The School of Nursing had a long-term plan to establish this program, having secured approval from the CSU Chancellor's Office, and this gift allows the University to accelerate that timeline.
This program will help alleviate the shortage of primary care providers in the region, which has fewer physicians per capita than any other region in California. According to the Fresno-based Central Valley Health Policy Institute, there are four primary concerns that feed the deficit: lower Medicare reimbursement rates in the Central Valley than in urban areas; one-third of California's physicians near retirement age; the lack of academic resources for young doctors; and a desire for young practitioners to work in higher-income areas.
"We know that a very large percentage of our graduates settle in the area," said Debra Tavernier, director of the Stanislaus State School of Nursing. "With the need for medical professionals so great, we're excited to be in a position to continue to train the next generation of nurse practitioners in our region."
Stan State's School of Nursing is ranked as one of the best on the West Coast. Last August the website TopRNtoBSN.com ranked Stan State's accelerated bachelor's nursing program as No. 1 in California, No. 2 overall in the West Region and No. 23 in the nation. In addition, the website ranked Stan State's Bachelor of Science in Nursing (for students without a prior bachelor's degree) No. 31 in the nation and No. 5 in California.