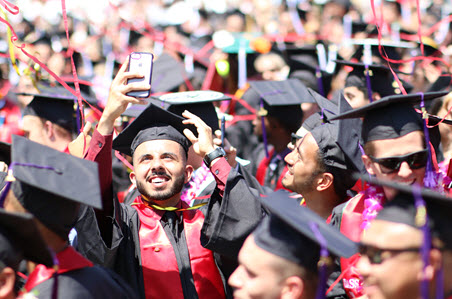 In commencement ceremonies held May 24-25 to honor the largest graduating class in Stanislaus State history, students were inspired by the themes of working hard to utilize the power of diversity and told that their degrees carry the responsibility of improving the lives of all people.
Thursday morning's student speaker, Jacqueline Marcos (B.S., Business Administration) set the tone for the messages shared with 3,437 graduates over three ceremonies.
"We are diverse people with different ethnicities, backgrounds, languages and experiences," Marcos said. "What we have in common is that we chose to further our education. We now can work together to lift our families, our communities and our nation into a world that respects diversity."
Each of the ceremonies featured a keynote address from distinguished speakers. Lynn Dickerson, CEO of the Gallo Center for the Arts, addressed Thursday's graduates from the College of the Arts, Humanities and Social Sciences and the College of Education, Kinesiology and Social Work.
Thursday evening's ceremony for graduate students and those receiving credentials was addressed by one of their own, Stan State graduate and California State Student Association President Maggie White, as well as student speaker Lauren Lanum (multiple subject credential).
On Friday morning, the graduates of the College of Business Administration and College of Science were addressed by Michael Tubbs, the Mayor of Stockton, in addition to student speaker Teresa Stevenson (B.A., Psychology).
Addressing all three ceremonies, Stanislaus State President Ellen Junn urged the graduates to heed the lessons of their heads, hearts and hands as they go forward in life.
"The head symbolizes the mind," Junn said. "The most successful people believe that their minds will continue to grow. The heart symbolizes gratitude. Recent studies have shown that the act of showing gratitude reaps both psychological and physiological benefits in your life. And your hands symbolize the act of giving back and serving each other with kindness. Find something you love outside of yourself and volunteer. You have your support and our love, so go out there, shake up the world and make us proud!"
Dickerson had a 29-year career in newspaper management, including a stint as president and publisher of the Modesto Bee, prior to joining the Gallo Center. She urged the graduates to persevere through the tough times certain to come along in life, and reflected on tragedies in her own life, which included the drowning death of her youngest son.
"My world as I knew it shattered at that moment," she said. "I was grieving so deeply I could barely get out of bed each day."
Her personal rebuilding process, including the continuous struggle of putting one foot after the other, taught her to treasure each day, and she implored the students to do the same.
"I want you to leave here today intent on putting your one wild and precious life to good use," she said. "Don't waste a day of it. We need bright, hardworking, educated people like you to solve the big problems facing our world and this region. We need you here! Put that new diploma to use right here in Stanislaus County."
White, just prior to receiving her own master's degree in public administration, called her peers to public service.
"You have sacrificed and been pushed beyond what you thought were your limits, and you have made hard choices to get to this point," White said. "This is not the end of anything but rather the beginning of a great privilege — heightened service to others.
"I want you to know that you are a champion for pursuing this goal and achieving it. But this degree, awarded to you today, is not really about you. It's about what you can do for others. You are the leaders we've been waiting for."
Tubbs has received national attention for his efforts to put Stockton back on solid footing following a decade-long battle against bankruptcy. And as a first-generation college student, he brought perspective to the responsibility of college graduates to serve their communities.
"What are you prepared to do today, Stan State Warriors, with your degrees, with your experiences, with the support of faculty and family, with this great opportunity?"
Tubbs spoke to graduates about how the Central Valley experience can be a catalyst to lift up others.
"Your story mirrors the wider Central Valley story … they tried to bury us, but they didn't know we were seeds."
Katherine Temnyk (B.S., Kinesiology) received the Geiger-Metzger Student Award for highest undergraduate grade point average. Angela Pimentel (B.A., Political Science) was given the J. Burton Vasché Award, presented to the graduate who displays the highest standards of leadership, service and scholarship, and Anthony Perrello, a professor of English, was honored as Outstanding Professor.
To read more about some special members of the Stan State Class of 2018, visit our #StanGrad page. [1]