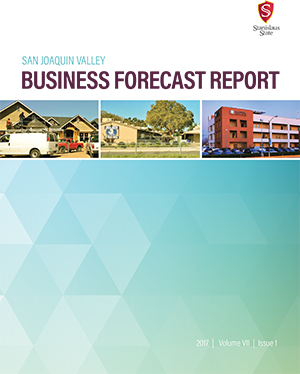 [1]In line with predictions made in previous San Joaquin Valley Business Forecast Reports, total employment growth in the San Joaquin Valley continues to slow. Since the decline in growth is coming at a more significant rate than in previous years, the Valley economy is displaying signs of plateauing. That's the outlook of Gökçe Soydemir, the Foster Farms Endowed Professor of Business Economics at California State University, Stanislaus, in his biannual Business Forecast Report.
With a growth rate of only 0.52 percent in 2017, another year of drop in the growth in 2018 could result in a decline in total employment for the first time since the Great Recession. Much-awaited tax reform and the recent dovish stance of the Federal Reserve following several rate hikes are a few of the factors that may play a role in maintaining employment growth in the Valley.
Much is happening politically that will affect the future course of the economy, including tax reform if it generates the intended result of stimulating the economy without increasing the budget deficit. Other factors include a significant revision of latest employment numbers from the Bureau of Labor Statistics, further increases in the rate of inflation that may cause the Federal Reserve to implement additional rate hikes and further escalation of tensions in Asia and the Middle East.
Total employment growth in the Valley is slowing down at a faster rate than that of California, and both are declining faster than the gradual slow-down in nationwide total employment. That slow-down is a potential concern if it continues, but the much-anticipated tax reform, along with a dovish stance of the Federal Reserve create an expectation of slightly faster growth in 2018 and 2019 than in 2017.
Soydemir's entire report can be found here [1], but here are some of the report's highlights:
EMPLOYMENT
For the first time since the Great Recession, the yearly rate of employment growth, 0.52 percent, was smaller than the long-term benchmark growth of 1.17 percent. Also for the first time since recession, Stanislaus County's paced the Valley with a 1.94 percent growth rate, while other Valley counties stalled or posted slight declines. Madera registered the second-fastest growth at 1.15 percent beating historical outperformers in growth such as Fresno (0.93 percent) and San Joaquin counties (0.38 percent.) Total employment declined in Kern by 0.60 percent and in Kings by 1.19 percent. Merced and Tulare posted very small yearly growth numbers at 0.51 and 0.64 percent, respectively.
Construction employment displayed the fastest growth at 6.38 percent, followed by education and health services employment at 3.99 percent and government employment at 2.01 percent.  At 1.83 percent yearly growth, retail trade employment dropped from the first to the fourth place in 2017, tied with trade, transportation and utilities employment. Wholesale trade employment grew 1.55 percent, financial activities employment rose 1.4 percent in 2017, and leisure and hospitality services employment struggled to increase only 0.28 percent. The most significant drop was in information employment, which declined 4.47 percent.
HOUSING MARKET
The Valley's average home price grew by 7.82 percent in 2017, more than a point higher than the 2016 rate of 6.56 percent. The growth rate should slow in the coming months. At the same time, long-term interest rates continued to increase in 2017, helping to deflate any bubble in the housing market caused by rising home prices. After several years of double-digit growth in the number of home building permits issued, 2017 saw the number of permit rise by 0.52 percent. However, it's important to note that roughly the same number of permits were issued in 2017 as in 2016.
THE DOLLAR AND INFLATION
With the retreat in the price of oil, cost-push factors dissipated in 2017, bringing the yearly rate of inflation back to the long-term rate. The rate of inflation, however, was higher than the growth in weekly wages in 2017, causing a drop in the purchasing power of the Valley consumer. Labor force growth continued to remain below employment growth in the Valley, displaying dynamics not consistent with the Valley's structural pattern.
BANKING
Despite rising 30-year rates, foreclosure filings continued to fall in 2017. Valley net loans and leases continued to grow together with bank deposits, but at a slower rate than in 2016. The growth in net loans leases, however, was much less than total deposits. After several years of continuous drop, Assets in default 30-89 days, 90-plus days and non-accruals continued to display a flat trend in 2017.
****
The biannual Business Forecast Report provides projections for the Valley's labor market; regional housing conditions; prices and inflation; banks and other depositary institutions; and capital markets. Soydemir and his team use a unique forecasting model that produces lower and upper statistical confidence bands, with results that are expected to fall within this range.
Soydemir joined Stanislaus State as the Foster Farms Endowed Professor of Business Economics in 2011. He brings strong expertise and experience in business analysis and forecasting and has published extensively on applied econometrics, regional economics, financial forecasting, market analysis and international finance.