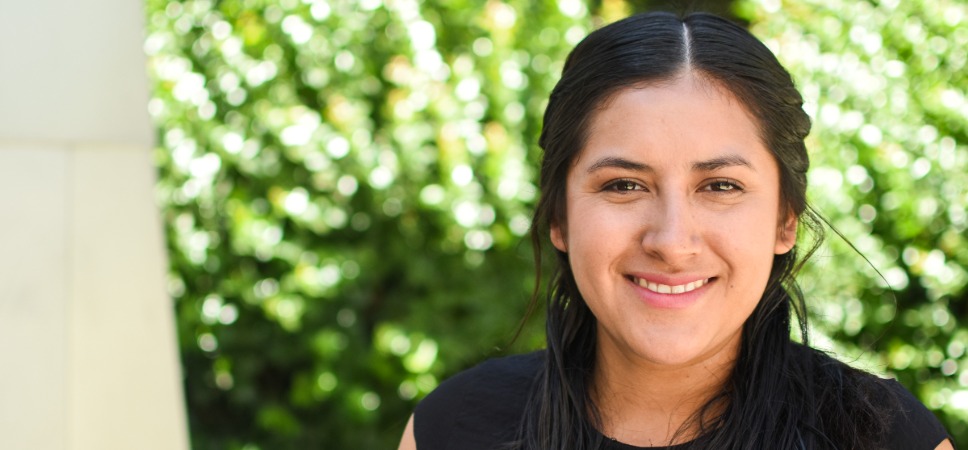 Undocumented Student Services Coordinator Named a Rising Latino Leader 
Stan State's Undo [1]cumented Student Services [1] Coordinator Polet Hernandez has been recognized by Rep. Josh Harder as a "Rising Latino Leader" as part of the 2020 Latino Leadership Awards. She has been making a positive impact on the lives of undocumented students for several years. 
Hernandez was born and raised in the small town of Tetela de el Volcan in Morelos, Mexico. Her parents and two younger siblings immigrated to the United States in 1998 as a result of financial disparities and lack of employment in their community. 
"I remember that even though my parents worked long hours to provide food and shelter their incomes were not enough to support all of us," Hernadez explained. "During the time that my parents and I were separated my grandparents took care of me." 
Her drive to help others stems from the obstacles she faced when she was separated from her parents and when she finally arrived in the United States. 
"I had to overcome many barriers such as a new language, new culture and a new educational system," Hernandez said. "During my educational journey, I often felt frustrated, not only for being an immigrant and trying to adapt to a new culture, but also for having to face the challenges of being an undocumented student."  
The passage of the Deferred Action for Childhood Arrivals (DACA) in 2012, when she was a student at Modesto Junior College (MJC), empowered Hernadez to begin helping others like herself. 
"I noticed big changes in myself. I was no longer afraid or ashamed of my status. At that point in my educational career, I dedicated myself to encouraging other undocumented students to further their education," Hernandez said. "I found comfort in helping other undocumented students with similar experiences." 
While at MJC, Hernandez helped established Students United Reaching for Equality (SURE), which was the campus' first group dedicated to undocumented students. As a leader, Hernandez provided support, resources, mentorship and empowerment for fellow undocumented students. 
From 2012 to 2017, Hernandez also was involved in several community organizations, such as Congregations Building Community (CBC) and the nonprofit El Concilio, both which advocate for comprehensive immigration reform and healthcare while helping community members apply for DACA and citizenship. 
In 2015, Hernandez transferred to Stan State and continued to serve undocumented students by taking part in the development of the Students Advocating for Equality (SAFE) club, now known as the Undocumented Student Organization [2]. 
Hernandez also participated in the Dreamers Committee of Stanislaus State as a student representative. Her role was to ensure fair representation of undocumented students and raise awareness around the needs of undocumented students.   
"As a DACA recipient and with the privileges that this program brings into my life, I truly believe that I have a moral responsibility to uplift the voices of the 11 million undocumented immigrants in this country," said Hernandez, and she is doing just that. 
After obtaining her Master of Social Work at Stan State, Hernandez has stayed on campus and continued to guide undocumented Warriors on their own academic journeys.  
"The struggles I had to go through in my educational and personal journey empowered and encouraged me to keep on fighting for myself and also for others who were in similar situations," Hernandez said.  
Harder praised the work that Hernandez has done in the Central Valley.  
"Her advocacy to create culturally-sensitive approaches for undocumented students has produced effective outcomes for students," Harder said. "Polet inspires and motivates everywhere she goes and promotes the importance of pursuing higher education and graduate school as an undocumented person."  
Hernandez is grateful for the recognition. 
"I am deeply honored to have received Congressman Josh Harder's Rising Latino Leader award," she said. "To be recognized for my work toward something that I love doing is very special to me. When I think about this award, I think about all the sacrifices that my parents made for me to have a better future."  
Hernandez is grateful for all the undocumented individuals she's worked alongside.  
"This award is not about me, but it is about each student, family and community member that I have worked with," she said.  
Hernandez encourages others to follow her lead. 
"My advice for others is to find a passion and pursue it. Know that learning what you're truly passionate about is a process, and it may not always be clear," Hernandez said. "We all have a huge number of fears around failure, success, visibility and vulnerability. However, if you find something you love, you will find the strength to overcome your fears."  
That includes the fear of rejection. 
"My advice for people of color is to join social spaces from which we have been historically excluded. Your experience will bring different perspectives, change and social justice."