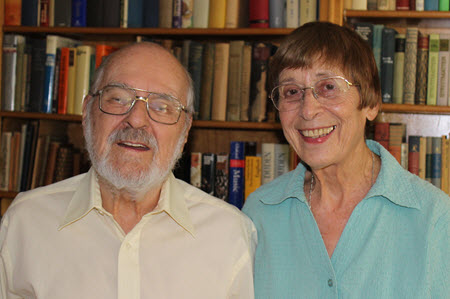 With a Stanislaus State focus on welcoming all, two longtime members of the University family are making their own contribution to a more inclusive future by evoking history.
World War II refugees Dieter and Hanna Renning say they hope to further the cause of "a common humanity" by sharing personal stories from another time — when war sent families fleeing. "Nowadays there are so many people on the move again because of wars, many of them coming to our area," Hanna Renning told a packed house at the Turlock Library on Wednesday, July 26. 
Hanna worked at the Turlock Library and the library at Stanislaus State, where her husband Dieter Renning was a professor of economics from 1970-96. In retirement, he is active in the University's Emeritus and Retired Faculty Association. Hanna Renning works with the University chapter of the American Association of University Women. They support a campus scholarship and are part of an informal lunch group of campus German speakers.
The Rennings are revisiting their childhood escapes — one leaving Germany as the Nazis came to power, one evading devastation as they fell— in presentations to community groups and high school classes.
"We want to give people who are younger a personal view of all the migrations now going on," said Hanna Renning before the talk. "My father always said refugees are neither here, nor there. But we can be a bridge. We can connect cultures," she said. "I think that's true of a lot of people today."
Both native Germans, Dieter grew up in Hamburg. Hanna grew up in Ohio. The couple met in 1958 as students at the University of Freiburg in southwest Germany.
"Although there were many contrasts in our backgrounds, we both knew what it was to be refugees and that our families had been uprooted by circumstances beyond the control of any individual," she said.
Her story
Hanna's family fled Berlin in 1936, shortly after her birth. Her mother was Jewish but her father was not, making their daughter a "racial disgrace" in the eyes of the Nazis.
Germany had just passed the Nuremburg Laws, decreeing Jews could not marry non-Jews, stripping their citizenship and marking Jewish heritage on identity documents. Her sister and brother had older passports, but newborn Hanna would have to travel without one. Hidden in a basket and called by her nickname, "Bunny," the baby crossed borders under an export license listing her as a small domestic animal.
The family of five landed in Panama, where her father, Werner Bohnstedt, joined other immigrants hired by the University of Panama to build up its programs. She remembers little of her four years in the tropics, only the deep green of the rainforest and the sparkling Pacific Ocean. The family sailed to America in 1940, after a populist movement swept an anti-immigration president into power in Panama, sending the refugee professors into exile once more.
The Bohnstedts, declared stateless by Germany and listed as fascists by Panama, were denied entry in New York until a friend at the U.S. State Department intervened. "When we got out to the street, my parents were so relieved to be there they literally went down on their knees and kissed the ground," she said.
The family settled in Ohio. "Six years later we became American citizens. And 75 years after landing in New York I am still grateful for the door opened for us," Renning wrote in a letter [1] to the editor in the Modesto Bee.
The war
Back in Germany, a few of Hanna's relatives fled to Palestine or China. But Hanna's grandfather, a rabbi, remained with his congregation in Hamburg and died in the Terezín Concentration Camp near Prague in 1943. About three dozen of her relatives died in the Holocaust, part of the genocide that killed 6 million Jews, nearly 40 percent of the estimated 15.3 million Jews alive in 1933.
"The term Jewish, for the Nazis, was never about religion. It was considered a racial designation," said Stanislaus State History Professor Richard Weikart, who attended the library event. Weikart holds a Ph.D. in modern European history, specializing in modern Germany. He is the author of several books on Nazi ethics and world view, including "Hitler's Religion: The Twisted Beliefs that Drove the Third Reich," published in 2016.
Weikart's research debunks stories of Adolf Hitler being part-Jewish or spurned by a Jewish crush. The Nazi campaign to eradicate the Jews, he believes, traces to the "fake news" of the 1920s, the story blaming Germany's loss in World War I on betrayal by civilians – Jews and Marxists the story went – who came to power after the war.
"Basically, Hitler bought into the conspiracy theories of the day," Weikart said.
Jews, however, were only one-tenth of the deaths in a war that cost 60 million lives – roughly 3 percent of the global population of 1940.
Millions of people were also displaced by the war, Weikart said, listing several ways: Many who survived the camps came home to find they no longer had homes or property; millions of Ukrainians and Poles were captured and sent to forced labor in Germany or Siberia; and whole swaths of land changed allegiance as the victors redrew the maps.
"Poland basically got shifted about 100 kilometers (62 miles) west. The Soviets took the east, and a portion of Germany was given to them," he said.
Where immigrants fled, they found an uneasy welcome. "The Americans were afraid Germans were going to bring spies into the country," Weikart said. "It was very ironic. The people were fleeing Nazi Germany because they were being persecuted."
Japanese Americans were also interned. "War does bring fear, and fear can make people do things that are not rational," he said.
"A lot of Germans didn't want anything to do with the Nazis, but did things that ultimately helped the regime," Weikart said. "A lot of young men joined the military, and thought it was their duty to do so."
His story
Dieter Renning's family lived in Hamburg, where his father, Ernst Renning, helped design the battleship Bismarck. But his father "was no friend of the Nazis," Renning said, "and he couldn't keep his mouth shut." In 1938 his father was interrogated by the Gestapo and ordered to find work far from Hamburg. The family moved to Danzig, then in 1939 to Königsberg, what is now Kaliningrad, Russia. There his father supervised repairs and maintenance of German U-Boats at the naval shipyard.
In 1943, 10-year-old Dieter had to join the local branch of Hitler Youth. He qualified for the boys' choir and sang for a children's radio broadcast twice a month. "We sang old German folksongs in Hitler Youth," he recalled. "The Nazi songs I learned in school."
He was 11 in early 1945 when Russians advancing from the east surrounded Königsberg by land. He and his mother escaped by sea, hidden on an ocean liner evacuating hospital patients. They arrived at his grandmother's home in Dresden, Germany, in February. A week later, American and British planes firebombed the city and a part of their apartment building took a direct hit.
Dieter and his mother left Dresden, reunited with his father and made their way to Hamburg, where they lived with his father's parents. Air raids meant almost nightly runs to thick concrete bunkers as sirens sounded. That ended in eerie silence when the city surrendered to the British army. "That was the end of the war for me," Renning said.
He grew up, studied at the university, fell in love with an American — and the rest, as they say, is history.