Former Advisor to Reagan Administration Speaks to Campus and Community in First Installment of Winton-Ireland, Strom & Green Executive Speaker Series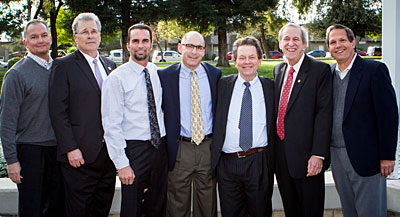 Economist Arthur Laffer (third from right), poses with Winton-Ireland, Strom & Green Chief Operating Officer Rick Adams (from left), CSU Stanislaus Provost James T. Strong, Winton-Ireland Chief Financial Officer Paul Porter, Winton-Ireland Chief Information Officer Michael Ireland, CSU Stanislaus President Joseph F. Sheley and Winton-Ireland Manager Jeff Quinn prior to Laffer's talk at CSU Stanislaus.
​
Students, faculty, staff and community members were treated to an evening of economic wit and wisdom at CSU Stanislaus March 27, when acclaimed economist Arthur Laffer became the first subject of the Winton-Ireland, Strom & Green Executive Speaker Series.
The event, sponsored by Winton-Ireland in partnership with the CSU Stanislaus College of Business Administration, gave the campus and community a unique opportunity to hear from a globally recognized economist.
"The college is very grateful for this generous gift," said Linda Nowak, Dean of the College of Business Administration. "Our vision is to be the business education nucleus of the region. This speaker series brings students, faculty and the community together to hear international experts speak on topics that are critical to our nation."
Known to many as "the father of supply-side economics," Laffer gained prominence during his time on President Ronald Reagan's Economic Policy Advisory Board. He has authored and co-authored many books and articles and is most famous for the Laffer curve, an illustration of the relationship between tax rates and government revenue.
Laffer, recently named Distinguished University Professor of Economics by Mercer University in Georgia, is also a coauthor of California's Proposition 13, a former Distinguished University Professor at Pepperdine University and a former U.S. Senate candidate.
Michael Ireland said Winton-Ireland, Strom & Green Insurance Agency employs about 140 people, and nearly 10 percent of them are CSU Stanislaus graduates or current students. The speaker series presents a chance to give back to the university while also enhancing the education of current students.
"We have benefited from CSU Stanislaus, and we wanted to do something extra to give back to the university and the community," Ireland said. "Budget cuts have made events like this impossible without outside funding. Our collective hope is that others will see the value of the speaker series and help fund it in the years to come."
In addition to Laffer's address and a VIP reception, the event also featured an opportunity for a group of students to meet and interact with Laffer.
"Dr. Laffer helped us see how public finance and businesses coincide," said Amy Howser, who is studying for her Master of Public Administration degree. "He gave many great examples of how the economy and public finance can play a large role when making decisions. Looking from many perspectives before implementing a new tax is important when predicting the effects it will have on the economy and on the people."
Monique Early, a Master of Business Administration student, said Laffer was an entertaining, engaging speaker who presented his views with fact-driven research.
"As a graduate student of CSU Stanislaus, it was an honor to share the presence of a man who has been and will continue to be influential in the policies that shape our country," Early said. "From a student's perspective, it doesn't get much better than this."