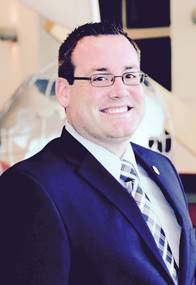 Jason Geiken, most recently the Vice President for Institutional Advancement at Hannibal-LaGrange University in Missouri, has been named associate vice president for development at Stanislaus State beginning December 11, 2017.
"We were searching for someone like Jason who had substantive experience raising private support for higher education and who was ready to hit the ground running," said Michele Lahti, vice president for university advancement. "His proven fundraising abilities, management and people skills, and his enthusiasm about moving to California's Central Valley, will serve him well in this important role at this exciting time for Stanislaus State."
Geiken, a native of Des Moines, Iowa, earned his bachelor's degree from Baptist College of Florida and his MBA from Iowa State University, where he later served as director of development for the College of Agriculture and Life Sciences.
"I am so thankful and absolutely thrilled to be joining President Ellen Junn, Dr. Lahti, and an incredible team of advancement professionals at California State University, Stanislaus," Geiken said. "This institution is at an exciting point in its history, and is primed to enjoy tremendous growth and progress in the coming years.
"I'm looking forward to meeting the many friends and partners of Stan State who have invested so much of themselves in this University over the years. In addition, my wife Bethany and I are excited to be coming to California, and especially excited about raising our family in Turlock and the Central Valley."
The associate vice president position has been vacant for more than a year, and the duties have been performed by Director of Alumni Relations Lisa McMullen, who served as interim associate vice president while also maintaining her responsibilities to Stan State's alumni base of more than 57,000 graduates.
Lahti also wishes to express her gratitude to the search committee chaired by Kevin Brunk, director of major giving. The committee also included McMullen; Dr. Jeffrey Frost, assistant professor, Department of Anthropology, Geography and Ethnic Studies; Dr. Anne Stokman, assistant professor, School of Nursing; and Dr. James Tuedio, dean, College of the Arts, Humanities, and Social Sciences.