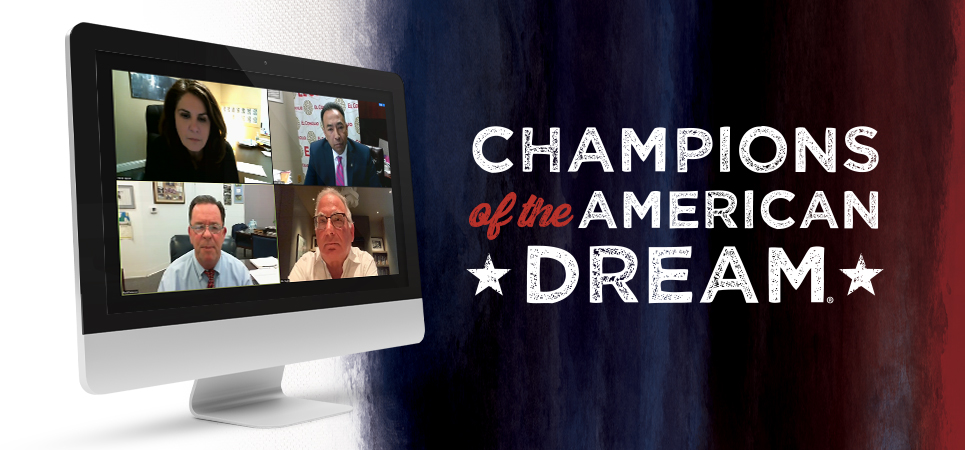 Previous Champions of the American Dream Honorees Recall Tribulations, Triumphs for Discussion on Leadership During Crises
Stanislaus State and the College of Business Administration [1] recently hosted "Champions of the American Dream," the annual event that recognizes Central Valley entrepreneurs who are leaders in their industry and dedicated to giving back to their communities through philanthropy.
This year's Champions event was held virtually on Nov. 17 due to COVID-19. But that didn't stop students and community members from participating in the livestreamed event with nearly 300 viewers. With many facing challenges posed by the pandemic, organizers took a unique approach.
Instead of recognizing a single individual, organizers asked three previous honorees to participate in a panel discussion on the timely topic, "Leadership in Times of Crisis."
Led by moderator Marian Kaanon, president and CEO of Stanislaus Community Foundation, the panelists — David Halvorson, president of American Chevrolet; Jose R. Rodriguez, president and CEO of El Concilio and Michael Zagaris, CEO of PMZ Real Estate — shared their own stories and lessons they learned from leading during challenging times. Audience members were able to ask questions and glean advice during the 90-minute discussion.
Those who missed the livestreamed event — or for those who'd like to re-watch it — it was recorded and is available for on-demand viewing [2]. In the meantime, here's a brief look at a few anecdotes and words of wisdom shared during the panel discussion. The comments were edited for brevity and clarity.
Jose R. Rodriguez, president and CEO of El Concilio
Jose Rodriguez spoke about the first leadership crisis he faced when he first took over the nonprofit organization El Concilio in Stockton:
"The organization had some financial issues and owed money because of the management of some contracts. One of the things that I had to do as the new CEO was to be honest with the employees about the depth of the crisis, the steps that we were going to take to fix it and then be transparent along the way.
There was not a quick, immediate fix. It was going to take a couple of years, and we were going to have to use benchmarks to measure our progress so (employees) would be able to see the progress themselves.
One of the things I learned was to be as transparent as I can. People working for the organization put their lives in my hands. Their livelihoods rested on the decisions that I made.
Once the staff and the community bought into my vision for the organization and how I wanted to fix this problem, we were able to within three years. At the time, the operating budget was a little over $1 million. Today it is $12 million.
Lead not out of fear, but lead out of respect mutual respect."
David Halvorson, president of American Chevrolet
In his lifetime, David Halvorson recalled three major times of crises: when he first opened his dealership, the 2009 recession and the current COVID-19 pandemic. Of the three, the first was the hardest:
"In July 1990, I was awarded the franchise, and I was its fourth dealer in eight years. The other three had gone broke. We inherited the third worst customer satisfaction rate in the United States.
At 30 years old, I thought I was relatively bulletproof. I thought, 'I'm going to go in and everything is going to be great.' What I found: we were losing money in buckets. I mean, we were going down quickly. Once you got to a certain level of loss, (the dealership could be taken away) and we were approaching that level fast.
Fortunately, I had a very strong support system — my father, who had been a dealer for years. I spoke to my dad every day. I was trying to keep my head above water and wondering what I'm going to do. He told me, 'Remember: the best thing in life is the struggle.'
And I'm sitting there thinking, 'This is the craziest thing I've ever heard.' But your development, your appreciation, your strength, your understanding, it all comes from the struggle and never comes from when things are great.
So, I kept working and eventually turned things around. From that, I developed three important things that helped make other crises easier:
Be aware of everything going on in your business. The little, teeny things can end up mushrooming into very big things.
I've been a big believer in planning. Hope is not a plan. I learned the importance of having contingencies, safety nets and fallback positions.
Make sure that your people understand the plan. And, if you're leading them and you are panicking and not following through, they're not going to follow you."
Michael Zagaris, CEO of PMZ Real Estate
A lyric from a Grateful Dead song he heard during his youth would later set the tone for how Michael Zagaris managed crises: "When life looks like Easy Street, there is danger at your door." He didn't really understand what that meant until he faced his first major crisis as a leader:
"In 1980, I was the oldest of four children. My siblings were in their 20s, and I had just turned 31. Two things occurred: my father passed away and the Federal Reserve Board raised interest rates to more than 20 percent. The real estate business — like the car business — is interest-rate sensitive.
I brought my siblings together and I asked, 'Do you see the light at the end of the tunnel?' They all said no. And I said, 'I don't see it either. But there's always light at the end of the tunnel.' We're going to move forward. That's based on the notion that 'this, too, will pass' when you face a crisis. In your life as an organizational leader, it's important to recognize that this, too, will pass.
I think it's really critically important for those in positions of leadership to be present in the moment and to be cool. Do everything you can to help with the psychology of those around you."
Crisis equals opportunity. When everybody else is panicking, there's huge opportunity. There is no better time to grow an organization. There's no better time to make intelligent decisions and reshape vision than during a time of crisis because most others are not doing that."