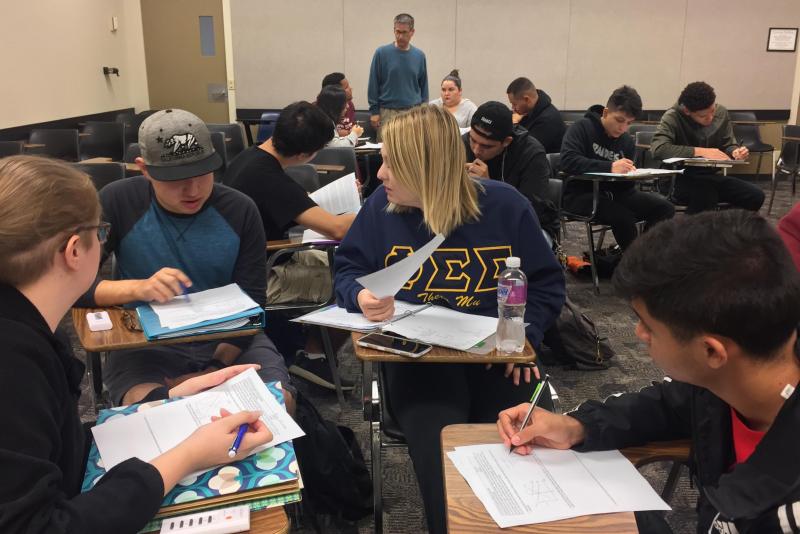 Classes designed to help freshmen make the most of their college years are piloting this fall at California State University, Stanislaus. In First Year Seminars, veteran professors lead tailored introductory courses with small groups of students.
The one-semester courses pair popular topics and interactive teaching methods to draw first-time college-goers into the intellectual slipstream from the start, said English Professor Scott Davis, program coordinator.
"We're hoping this experience will really hook students, let them see being smart for the fun of being smart is something you get to do at college," Davis said.
Beyond the joy factor, leaning into learning, rather than having teachers parse the lessons for them, is a critical transition many college freshmen struggle to make, he added. "At the university level, students can take a lot more initiative and authority over their own learning."
The 11 courses include seeing history through the eyes of artists (art appreciation) and regional power struggles over water (geography). An intro to archeology covers basic terms and techniques, tying it to undergraduates' work at a dig in Honduras. A communications course tackles the role of mass media in violence, advertising and politics. Davis is teaching Introduction to Literature with a fresh course description that begins: "Literature often lies to tell the truth." Another literature option studies comic books and culminates in students creating a graphic novel.
A seminar in introductory macroeconomics is being taught by Economics Department Chair Kelvin Jasek-Rysdahl, who weaves talks about connecting with campus life and study habits into the mix.  "I try to get them to think strategically about how they use their time to learn course material," he said.
In a recent session, the 21-student economics class answered review questions about national deficits and budgeting. "Why can't Congress just pay off the debt?" "Prioritizing tax cuts over debt reduction illustrates which economic philosophy?" It is the same material covered in every macroeconomics intro course, but Jasek-Rysdahl hopes to harness the headlines about fiscal policies to help freshmen see the relevance of their education.
His remake of the long-standing standard course included a curriculum remake, note-taking guides, Jeopardy-style review questions, use of instant-answer clickers and flipping his lecture-based teaching style. Students watch a video of the lesson lecture and look over the reading material before class, then cover in class what used to be homework. "The idea is that solving problems is the hard part of the class and taking notes is easy," Jasek-Rysdahl said. "I have students do the easy work outside of class and do the hard work when I am available in class."
Students said the switch works. "It's easier — otherwise I would have to do all these problems alone," said Megan Silva, looking down at her half-finished page of essay questions.  "You have a lot more resources this way," said Rita Meza.
Each First Year Seminar repurposes existing general education coursework, avoiding the years-long process to accredit a new topic within the California State University system. The work-a-day version of these college staples are still available. What sets the seminars apart are a 25-student cap and modified teaching style and substance. Each seminar lays out precisely what professors are looking for in class discussions and papers, and provides more feedback to improve speaking and writing skills.
Traditionally, students work out those keys to success on their own. But first-generation college-goers – who accounted for 75 percent of incoming Stan State freshmen in 2016 – may lack the institutional insight of students from college-going families.
"The classes have to be small enough to get to know each other and give faculty space to do their best work," Davis said. "With the small room, they can have less lecture time and make it more of a seminar. There will be a lot more discussion. They can go in-depth, really excavate the issues."
By digging into the subject matter, faculty can help students make connections to compare and contrast the different examples or facets they study, he said. "If there's an unspoken expectation for succeeding in college, it's figuring out how to bring those threads together." 
The seminars concept was first broached by President Ellen Junn, who oversaw a similar program [1] in her previous post at CSU Dominguez Hills. There, the program is strongly encouraged for all freshmen, said Keisha Paxton, director of the CSUDH Faculty Development Center.
The Stan State program is serving around 300 of an incoming freshman class of more than 1,400 this year. The program is expected to grow and adapt, based on faculty and student feedback, for fall 2018. But its growth will be gradual, Davis said, "It has to stay focused for it to have the impact we want."