Orestis Panagopoulos Creatively Engaging Student Housing Neighbors in a COVID-19 World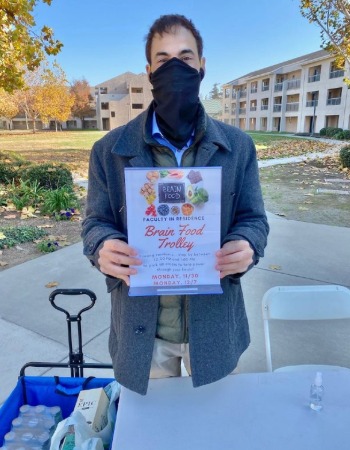 When he was named Faculty in Residence (FIR) for the 2020-21 academic year, earning the appointment from a field of nearly 10 applicants, Computer Information Systems Assistant Professor Orestis Panagopoulos envisioned meals with on-campus residents and outings he would organize for them. 
Panagopoulos' plans, however, were shelved by the COVID-19 pandemic. 
Instead of nearly 700 on-campus residents, he's surrounded by about 100. Trips to businesses, films, restaurants and museums — typical outings organized by past FIRs — have been replaced with outdoor, social distanced interactions and Zoom meetings, although, not much of the latter. 
"I have observed Zoom fatigue," Panagopoulos said. "They're online on Zoom attending all their classes. They don't want to do that anymore. Based on that, activities I've been planning and doing with students are trying to highlight and promote social life on campus but always maintaining social distance. I'm trying to get students and myself outdoors." 
Most recently he set up a table and offered "brain food" for residents to pick up as they begin to prepare for finals. 
Earlier in the semester,  Panagopoulos organized a fitness buddy program. He asked students to fill out a survey of their workout habits and goals and paired them to work out together, distantly, or simply to support one another. 
"It was a successful event," Panagopoulos said. "They not only got to meet somebody they wouldn't have otherwise met, which was important to achieve, they worked out and got to talk to me, and we got to know each other. These are the kinds of programs that try to promote social aspects, because we can't have field trips." 
Trips were a big part of the activities planned by past FIRs. 
"The FIR organizes outings for students that can be on campus, in the area or farther afield," said English Professor Jesse Wolfe. 
Wolfe served in the role from 2007 to 2011 when his wife, Alex Block, was living on the East Coast while completing her doctorate, and again from 2014 to2016 after she joined him in California, and they were the parents of pre-school-aged twin daughters. 
One of Wolfe's favorite trips was a guided tour of San Francisco that included Saints Peter and Paul Catholic Church, where Marilyn Monroe and Joe DiMaggio were photographed after their wedding. One student, a baseball player, told Wolfe, "that's where I'm getting married." 
Taking students to Modesto to watch a play at the Gallo Center for the Arts or for dinner at a café to study for finals or boarding a bus for a trip to an Oakland A's game enabled Wolfe to bond with on-campus residents. 
Panagopoulos is having to connect in different ways, however the mission of the FIR remains the same. It's meant to allow students to see faculty as equals, and to have someone they trust who can connect them with resources and services on campus, encourage them to reach out to faculty and dive into the experiences Stan State has to offer. 
"We are looking for a faculty member who is excited about being really engaged with residents and is wanting to reach out and put themselves out there and connect with them," said Jessica Bettencourt-Wojciechowski, assistant director of residential education. "Especially with our style of housing, which is apartments and suites. It's easy for residents to get comfortable in their spaces, and it takes a good amount of effort to connect with residents and build those relationships. First and foremost, we're looking for faculty members who are really interested in engaging with and talking with students and taking on a mentorship role with our residents." 
For Wolfe that meant having dinner with students every night and finding babysitters among residents for his daughters. 
Panagopoulos says it's challenging to connect from a distance, from behind a face covering, but he has no regrets about taking the position for the 2020-21 academic year. 
Unlike Wolfe, who assumed the role of FIR one year into his time at Stan State so he could be introduced to all the campus had to offer, Panagopoulos waited four years. He chose to settle into teaching and become acquainted with the campus and students, which included becoming advisor for the Computer Information Systems Club. 
As a FIR, he has a particular vision, even if he's had to alter his methods for achieving it. 
"I wanted to create an environment of inclusion for all students from different backgrounds to feel part of a community," said Panagopoulos, a native of Greece who came to the United States as a graduate student in Florida and accepted the position at Stanislaus State in large part because of the campus' diversity. "I want residents to feel empowered, to feel they have the resources to achieve their goals. 
The FIR position isn't for everyone. Some wonder why a faculty member would want to return to student housing, even if the apartment has been modified to include a master bedroom and two other bedrooms, one of which serves as an office. Wolfe and Panagopoulos say the Residence Life Village at Stan State is relatively quiet and hardly resembles "Animal House" or other depictions of college life. They and others see the role, which comes with free room and board and parking, as an opportunity to meet students in their own realm. 
Even under challenging circumstances, Panagopoulos has no regrets about his decision. 
"It has been a great pleasure to arrange social events to keep students connected," he said. "It's important for us, at this time, to feel a sense of support in our community. I've enjoyed getting to know the residents. I'm impressed by how they're striving for success under these circumstances."