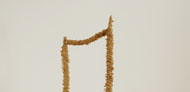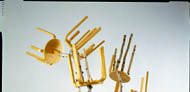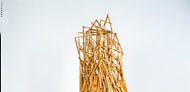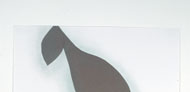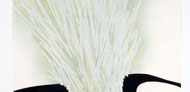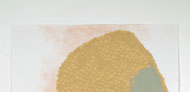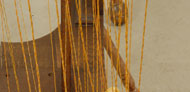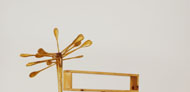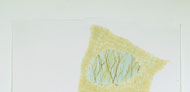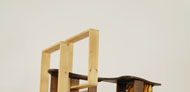 (0)
March 10 to April 7, 2009
Reception: Wednesday, March 10, 6:30- 8:00 pm
Coleen Sterritt's current work reflects an ongoing investigation into the uneasy balance between nature and the constructed environment. This relationship is demonstrated through use of specific forms and materials. Forms are derived from both natural and manmade structures such as clusters, clumps, bridges, and trusses. Materials range from milled lumber to pine cones to found furniture. These combinations focus on the interaction between the organic and geometric; nature and culture; opposites and intervention.
"I'm interested in incorporating chance elements such as someone else's discards or studio waste which enables me to somewhat remove myself and let the building process take over in a way that feels less encumbered by conscious, aesthetic decisions. This method of working provides a means of challenging myself and acts as a catalyst to move forward in my art-making process. It is a struggle between control and letting go, one both compelling and confronting, real and metaphorical."
Over the past three decades, Ms. Sterritt's work has been included in exhibitions throughout the United States and in Europe. She has had numerous one-person gallery exhibitions and is included in many public and private collections, most notably, the Museum of Contemporary Art, Los Angeles.
Ms. Sterritt is a recipient of many distinguished awards including artist fellowships from the National Endowment for the Arts and Art Matters, Inc., New York. She received an Artist-in-Residence grant from the Roswell Museum of Art in New Mexico in 1994. In 1996, Sterritt was awarded an Individual Artist Fellowship for sculpture from the J. Paul Getty Trust Fund for the Visual Arts and she is a recent recipient of an Individual Artist Fellowship from the City of Los Angeles (COLA Award) for 2006-07.