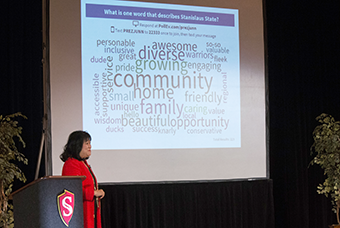 The Fall Convocation address normally is an opportunity for a university president to look back on the previous year's accomplishments and put them in perspective at the dawn of the new term.
But having been in office for 60 days, Stanislaus State President Ellen Junn used the occasion of her first Fall Convocation on Tuesday, Aug. 30, to set a foundation for the work ahead.
Junn used the platform to review her core principals and recap a few highlights of her first nine weeks before introducing the concepts that will guide the University's success in the coming years. And she did so with a decidedly accessible and conversational approach that already has become her hallmark at Stan State.
Utilizing a PowerPoint presentation and web-based polling of the overflow audience inside Snider Recital Hall, Junn addressed many issues facing the campus while maintaining a theme of open discussion and collaboration as the University continues to move forward.
"When I came to this campus, I immediately felt that sense of community," Junn said. "This convocation address is not simply me talking at you. I want to find out a little bit more about you and the campus."
Junn established and explained her five core principals: improving student success; supporting faculty and staff success; enhancing the University's function in the region; building strong partnerships with the community; and celebrating, recognizing and having fun while doing it.
She spoke of her whirlwind first 60 days, which included personally meeting more than 675 people and opening a dialogue with the Faculty Senate to begin working on a new University Strategic Plan. In addition, she has introduced and established a charge for a presidential transition team and — in her most visible move — reintroduced Freshman Convocation after a 12-year absence.
"The day provided the opportunity for our freshmen to meet with campus administrators, faculty and alumni collectively," she said. "They learned about the resources available to them directly from our academic departments and programs, providing further assistance on how to navigate to their ultimate goal of a college degree."
The Freshman Convocation, she said, was an early step toward encouraging and providing the means for students to pursue a four-year degree path, which is an emphasis throughout the California State University system. The four-year graduation rate at Stanislaus State currently is 12 percent. The goal is to boost the rate to 37 percent by 2025.
Later, during a press conference, Junn said there is data-crunching technology available that would allow the University to anticipate when additional sections of core classes are needed to meet demand, since class availability often is cited by students as a barrier to achieving a degree in four years. But in addition, Junn emphasized that students must assume the key role in the effort, and can do so by seeking the help of advisors.
"They have advisors, but many choose to advise themselves," Junn said. "It can slow them down and burn their financial aid in a way that doesn't help them. I want to help students get easier access to high-level advising, and to help them understand that it's a two-way street."