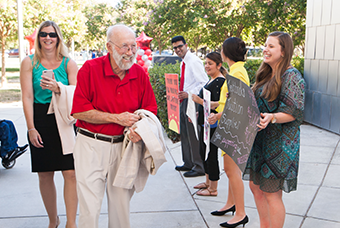 Volunteers were enthusiastically greeted with messages of thanks from 2015 One Purpose scholarship recipients.
Teams of volunteers are getting ready to raise support for student scholarships at California State University, Stanislaus during the second annual One Purpose campaign. Volunteers have accepted the six-week challenge to raise $1 million — funds that will provide direct educational opportunities for students.
The fundraising campaign kicked off Aug. 27 and concludes Oct. 8, bringing together a community of more than 270 volunteers — including community and business leaders and nearly 100 Stanislaus State alumni — who are champions for student success. This second year of the One Purpose campaign will build on the successful inaugural effort, which raised $818,000.
Volunteers also will serve as ambassadors of the University as they gather support for One Purpose throughout the region, sharing their own stories about Stan State, as well as stories of recent student accomplishments. Additionally, they will be sharing the theme of this year's campaign: Every dollar has a million possibilities. The funds raised by volunteers through One Purpose will be applied to student scholarships, meaning that every dollar will reach a student and provide them with additional resources and opportunities to pursue their education.
John Sims, who earned his master's degree in public administration from Stanislaus State, said that it was an easy decision to volunteer for One Purpose. Sims is the executive director for the Stanislaus County Children and Families Commission.
"The One Purpose campaign is giving back to my alma mater that has given so much to me," Sims said. "Raising money for scholarships is an investment in the future. I recall how a scholarship I received was a help to me as a student. What I have come to realize now was that the community was investing in me."
As a result of the dollars raised during the 2014 campaign, more than 165 One Purpose scholars have received scholarships for the 2015-16 academic year.
Meet our One Purpose Scholars [1]
Selina Hernandez, a first-generation college student pursuing a degree in criminal justice, said that receiving a One Purpose scholarship affirmed both her hard work and her goal to earn a college degree.
"I was honored that the dean of the college recommended me for such a prestigious scholarship and recognized my academic achievement," she said. "It is reassurance that I can achieve my dreams."
Those who give to One Purpose are making an investment in students and in a University that is making a difference. Numerous community leaders have stepped forward as volunteers and supporters of One Purpose, citing the importance of investing in education.
"Stanislaus State attracts incredibly talented students that have a great deal of potential," said Turlock Chief of Police Robert Jackson. "One Purpose is a way in which our community can support these students and help them achieve. It's a great investment for the future of our region."
Those interested in more information — or in giving to One Purpose — can contact the Division of University Advancement at (209) 667-3131 or visit www.csustan.edu/one-purpose [2].