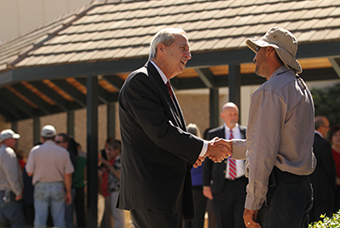 President Sheley greets faculty, staff, students and guests before his 2015 annual address.
The unveiling of the new University brand was not the only positive news delivered during a decidedly upbeat annual address delivered Aug. 26 by President Joseph F. Sheley.
At his fourth opportunity to speak to the large gathering of faculty, staff, students and guests, Sheley brought attention to the praise the University continues to receive for the way it serves its students and its region.
Most noteworthy, he said, was the Money magazine ranking of Stanislaus State as the top public university in the nation for helping students exceed expectations.
"This affirms our sense of pride in how many of our graduates each year are the first in their family to earn a college degree and how much the region's employers appreciate our graduates," Sheley said. "In short, we are not simply here, we are making a difference. We are less and less America's best-kept secret. The Stanislaus region has in its own backyard a University of which it can be justifiably and publicly very proud."
One of the ways that pride is manifested, Sheley said, was in an increased willingness of the region to support the University financially. He pointed to the inaugural One Purpose campaign, which raised $818,000 for student scholarships.
"Ultimately, this is what we are about," Sheley said. "Ours is one of only six campuses in the CSU system with a six-year graduation rate above 50 percent and one of only three to have met the system's target for graduation rates among our student subpopulations."
Sheley also praised the ongoing effort of the campus facilities department to address water issues during the continuing drought, meeting the state mandate of a 25 percent reduction in water usage; lauded the nursing program for landing in the top 6 percent in the region; and cited the $1.8 million TRIO grants awarded to the University by the U.S. Department of Education.
He also recognized the work of campus and community leaders in convincing the state legislature to pass a budget that allowed the University to increase enrollment by 4.6 percent, while warning against celebrating the financial windfall too loudly.
"We are far from out of the woods," Sheley said. "The amount given the CSU does not get us back to 2008 budget levels. The new dollars to our campus do not equal the perfectly legitimate calls on those dollars. We need to begin stabilizing our budget with an eye to the future as well as to the present."
He cited a prime example of the University's forward-thinking approach in its joining with Modesto Junior College and the Stanislaus County Office of Education in establishing the Stanislaus Education Partnership.
"We understand that it does little good to keep saying we need more college graduates in the region if we are not helping collectively to increase the number," Sheley said. "This is not just giving young people a better chance. When we do our jobs, we are moving the region forward."