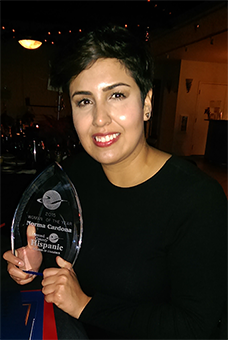 The Merced County Hispanic Chamber of Commerce recently named Norma Cardona, an alumna of UC Merced and Stanislaus State, as Woman of the Year for her outstanding work with homeless youth in the community. The honor came as a surprise, as Cardona received a phone call just days before the awards ceremony.
"I know of many other community members who are doing great work," Cardona said. "To be nominated among those great champions in the community was a great feeling."
As the homeless and foster youth program manager at Merced Union High School District, Cardona's focus is on providing basic needs for students in order to give them a chance at success. However, her passion for youth extends beyond her regular job through her extensive service on the Merced County Workforce Investment Board. She is also a member of the Merced County Continuum of Care, a public private partnership of organizations and agencies committed to preventing and ending homelessness.
Cardona said her passion for helping young students came about as a result of her own experience growing up in a low-income family. Her parents were both agricultural workers from Mexico and they lived in a trailer park. It was her parents' encouragement and belief in her potential that set her on a course for academic and personal success.
"My parents always engrained in me that education would open doors," Cardona said. "I am the first in my family to earn a bachelor's degree, and also the first with a master's degree. Now, I feel like I can give back and I want to show students that are in the same situation I was that there is hope. That is what drives me."
After graduating from UC Merced with a bachelor's degree in psychology and cognitive science, Cardona wanted to return to school in order to further her career in public service. She earned her master's in public administration at Stanislaus State in 2015 and said that the skills she learned through the master's program have been invaluable in her efforts to serve homeless and foster youth.
"The classes I took through the MPA program, including budgeting, human resources, and especially social justice, are helping me to get a successful program launched and to be an effective civil servant," she said. "And the grant writing class really helped me hone my grant writing skills."
As a result of those skills, Cardona has facilitated or written proposals that have resulted in more than $6 million in grant funding for local educational and service agencies. She cites collaboration as the key to successfully implementing grant programs to have the biggest impact on the students they serve.
"Partnering with local agencies is important for providing basic needs for our students to give them a chance at success," she said. "The work that we do to meet those basic needs can only take us so far. I hope that I am making a difference for students to feel self-esteem and to be focused in the classroom, and to be critical thinkers. I have seen changes in specific students, and that gives me hope."
Cardona said in her role working with homeless and foster youth, she often feels like a role model.
"It's really humbling, and also a lot of responsibility," she said. "I hope I am a role model, especially for young women. One of the reasons I went to school was to be a role model for my sister and cousins, to show them that they can make it, they can get out of poverty, and can make a difference."