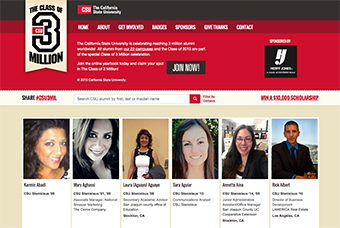 CSU Stanislaus is proud to be one of 23 campuses in the California State University — the largest, the most diverse and one of the most affordable university systems in the country. This year, we are joining in the celebration of the CSU system reaching a milestone of 3 million alumni.
To mark this accomplishment, the CSU has established the Class of 3 Million online yearbook. Alumni from all 23 campuses are encouraged to post their photo, identify their alma mater, and share their current occupation and hometown to show their alumni pride.
You can take your place alongside the millions of CSU alumni who have shaped California, the nation and the world by signing the world's largest yearbook.
Our campus has set a goal to raise the level of visibility and pride in our region and beyond, and to share the impact of CSU Stanislaus graduates. President Joseph F. Sheley has asked alumni to join this effort by creating their profiles on the Class of 3 Million yearbook, and to reach out to other alumni and encourage them to do the same.
"50,000 alumni carry forward a rich history of pride and purpose for CSU Stanislaus," Sheley said. "A large part of our potential to make a difference in the region rests not only with the contributions of our alumni but also with them actively telling our — and their — story."
It only takes a few minutes to log in and create a profile. Currently, CSU Stanislaus has the second highest number of profiles on the Class of 3 Million yearbook — outpacing many other CSU campuses with significantly larger alumni foundations.
Signing the online yearbook is an opportunity for our alumni to demonstrate their pride for their alma mater," said Lisa McMullen, '08, director of Alumni Relations. "It is important to stay engaged, promote where we came from and help the next generation of CSU Stanislaus alumni — our current students who will continue the great legacy of our esteemed university. I am encouraging all of our alumni who are proud of the degree they earned at CSU Stanislaus to go online and share their accomplishments as a members of the Class of 3 Million."
The Class of 3 Million effort is also asking alumni to get involved by earning badges on their yearbook profiles. Alumni are encouraged to recognize their family members who have graduated from the CSU, participate in social networking, show their appreciation for CSU faculty and staff, and advocate for their alma mater. For each of these actions a badge is displayed on their Class of 3 Million profile.
Additionally, by creating a yearbook profile before May 1, 2015, alumni will be entered to win one of three $10,000 Herff Jones-sponsored scholarships. The scholarships can be used by the winner, dedicated to a current CSU student or donated to a CSU campus.