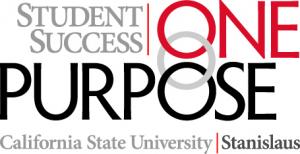 This year, CSU Stanislaus is celebrating and supporting student success with a new annual fundraising campaign called One Purpose, which will provide scholarships to students who demonstrate academic excellence.
"We aspire to find opportunities to attract and educate students so that they can graduate with a meaningful and practical education, fully prepared to step into our region's workforce and make an immediate impact," CSU Stanislaus President Joseph F. Sheley said. "One Purpose has the ability to unite the campus and the community to invest in the success of our students and of our region."
One Purpose brings together enthusiastic volunteers, generous donors and dedicated members of the community. The annual six-week fund drive utilizes the team concept, with campus and community leaders forming 24 teams with an ambitious goal of reaching $1 million to benefit scholarships for student success. The campaign will mobilize up to 350 volunteers.
During the six-week campaign, individuals will be invited to join one of eight pledge levels. These pledge levels are structured to allow everyone the opportunity to participate in investing in student success, said Vice President for University Advancement Shirley Pok.
"There is power in numbers — individually, we could not be as impactful," Pok said. "By unifying our efforts, we are able to make a difference that will resonate throughout our region."
The campaign will be bolstered by the enthusiasm of Jacqueline Holt, who joined the University Advancement team in December as Director of Annual Giving.
"Jacqueline Holt brings with her a solid foundation of experience using the team concept for nonprofit fundraising," Pok said. "She delivers organizational leadership with sophistication and upholds relationships as a critical key to success."
Holt, a Turlock native and Stanford University graduate, is passionate about education, having served on the Turlock Unified School Board as a student liaison while attending Pitman High School. Connecting community members with volunteer and giving opportunities will be among Holt's goals as the director of the annual giving program.
"The volunteer experience is exciting — it's a tight-knit network where team members will build relationships with others who support student success and are dedicated to reaching our goal of $1 million in six weeks," Holt said. "I truly believe that we are going to make history, and the journey will be rewarding."
Those interested in volunteering or becoming a member of One Purpose are encouraged to contact Holt at (209) 664-6864 or JLHolt@csustan.edu [1].