Over the past six months, during which I've served as your new Director of Alumni Relations, I've had the pleasure of meeting with alumni across the university and community — alumni who share the same pride and enthusiasm I feel for CSU Stanislaus, which makes me confident of the great things to come. It feels good to be back at my alma mater, and I love seeing so many alumni returning to campus as well.
The university welcomed several alumni back to campus as participants in the College of Science's Dinner with a Scientist event, both as scientists and as teachers in the community. The College of Business Administration showcased three alumnae on the panel of its annual Women's Leadership Forum. And the College of the Arts, Humanities and Social Sciences often welcomes back alumni to share their passion and talents through music, art and theater. I even had the pleasure of attending an alumni soccer match. We are surrounded by alumni who are continuingly coming back to give of their time and talent.
In April, we brought together more than 100 alumni at the Alumni Reception held in the Village Café, reconnecting with former classmates and meeting new friends at what was — to most of us — a new campus location with an incredible view. Our president, deans, athletic director and alumni council chair left us with much to be proud of, and to those who attended, I thank you for coming back to get to know your university.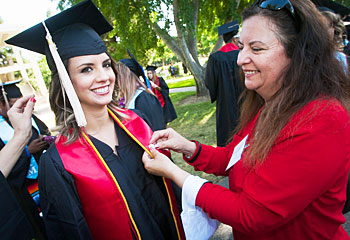 ​Alumni volunteers presented the Class of 2014 with university lapel pins prior to commencement.
Alumni also had a presence at our commencement ceremonies in May, as alumni volunteers congratulated graduates and presented them with CSU Stanislaus lapel pins as they prepared for the processional. Continuing a tradition introduced last year by President Joseph F. Sheley, we honored the "Golden Grads" from the Class of 1964 [1]. We heard from our alumni commencement speakers, Clive Riddle and Marny Fern, who shared how CSU Stanislaus has contributed to their success and the importance of staying connected to our great alma mater. And of course, we welcomed more than 2,500 students into our growing ranks of alumni, which now totals more than 54,000.
It is my sincere hope that you will also come back to visit your campus again soon, and often. There will be many opportunities to do so — including Vines in March 2015 — and we'll continue to tell you all about them in this newsletter. I look forward to seeing what we can accomplish together in the years to come.
Lisa McMullen
Director, Alumni Relations