Class of '14 Joins Alumni Ranks
CSU Stanislaus welcomed more than 2,500 graduating students last month to an alumni base that now numbers more than 54,000.
Three commencement ceremonies over a two-day span highlighted the impact the university has on the region's students and the impact of its graduates on the region.
Read More [1]
Golden Grad Recalls 'Golden Opportunity'
Jim Toepfer was born in Turlock and graduated from Downey High School in Modesto before beginning his higher education at Modesto Junior College.
He wasn't sure what he wanted to do from there, though, and going away to school to finish his degree didn't work out. Things changed for Toepfer when his wife graduated from the nascent Stanislaus State College in his own hometown in 1962.
Read More [2]
Director's Corner: Back to Campus
Over the past six months, during which I've served as your new Director of Alumni Relations, I've had the pleasure of meeting with alumni across the university and community — alumni who share the same pride and enthusiasm I feel for CSU Stanislaus, which makes me confident of the great things to come. It feels good to be back at my alma mater, and I love seeing so many alumni returning to campus as well.
Read More [3]
Report: Valley Economy to Reach New Highs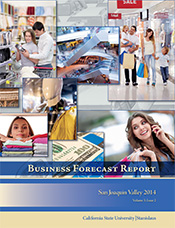 The San Joaquin Valley economy continues to trend upward following the Great Recession that began in 2008 — with employment reaching an all-time high in the third quarter of 2013 and the economy expected to exceed pre-recession levels by 2016 — according to a report by Gökçe Soydemir, the CSU Stanislaus Foster Farms Endowed Professor of Business Economics.
Read More [4]
'One Purpose' Aims to Raise $1M for Scholarships
This year, CSU Stanislaus is celebrating and supporting student success with a new annual fundraising campaign called One Purpose, which will provide scholarships to students who demonstrate academic excellence.
Read More [5]