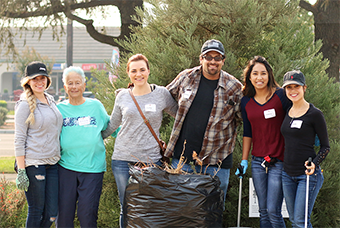 The idea for a botanical transect of California took root in the minds of Stan State professors Wayne Pierce, Dave Gotelli and Ida Bowers in the 1980s. But bringing their idea to life took many decades and donations, including the "Leaf Your Mark" gift campaign of the graduating Class of 2012.
What is now the Trans-California Pathway began with the planting of 300 seedlings Gotelli grew from acorns. "Whenever I visit the Pathway, I get emotional because it's the fulfillment of their dream," said Denise Godbout-Avant, a Stan State alumna who joined in that first planting as a science student. "It's been an incredible journey watching the seedlings we planted so long ago become what they are today."
Project supporters lugged buckets of water or connected hoses from the Science Building to water the fledgling Valley Oaks. The Pathway opened Oct. 25, 2012, as a living arboretum, ecology lab and economical field trip. It runs along the landscape strip bordering West Monte Vista Avenue from Parking Lot 11 to Geer Road.
Wayne Pierce died in 2008, but friends and his widow Donna Pierce carried the project forward. A poem by retired Modesto Junior College Biology Professor Lynn Hansen calls the Pathway "a living monument, honoring the memory of a gentle man whose botanical dream shape-shifted into a perennial community gift."
Today, Biology Club students help maintain the Pathway and plant new seedlings. University staff eat lunch on its benches. School buses bring elementary students to trek its length during science field trips. A GPS mapping activity for native plants and a leaf craft project will bring kids to the Pathway on Science Day [1], March 10.
"It is a good tool for introducing people to the idea of native plants," said biology major Josh Benson.
"It is a great place to de-stress and see native birds and plants," said kinesiology major Breanna Hale, who coordinated the October clean-up day.
And the Pathway serves as a living laboratory for Stan State students. Stephanie Disch brought her biological illustrations class to the Pathway to sketch September blooms. "In this class, we always try to work from nature, from direct observation," Disch said. "It makes all the difference in their development as artists as well as scientists."
Botany classes of Andy Gardner and Stuart Wooley study plants conveniently close. "With plants, it's important to collect samples throughout the year," Gardner said.
This was her late husband's vision, said Donna Pierce, "He wanted it as an outdoor classroom for his students, but he also wanted it to be a park for the community to bring their children, to understand the science of the high Sierra down to the valley floor."
More than 800 plants fill the on-campus transect plan, including Valley Oaks at the base, Blue Oaks of the foothills, Black Oaks in the mid-elevation section and shrubby Huckleberry Oaks from high elevations. Growing mountain-top natives at Turlock's 100-foot elevation has proven a challenge, Gardner said, but donations [2] and planning are making a difference.
This fall, a volunteer team planted flowers that should add more color in the spring. "It's making great progress," Gardner said. "In a couple of years, it's going to be a jewel."