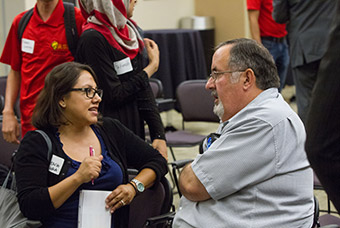 Yeseli Arias took advantage of the many resources available to her as a CSU Stanislaus student en route to earning her bachelor's degree in biological sciences in 1996.
Now chief of inpatient pediatrics and neonatal intensive care unit services for Kaiser Permanente, Arias jumped at the chance to give back to the University and offer words of wisdom to current students as part of the new Career Connection series of events.
"Reaching out to students is extremely critical," Arias said. "They need all the support and guidance they can find. I know I wouldn't be where I am today if it wasn't for the network of advice and counsel that surrounded me during my undergrad years."
Presented by the Office of Alumni Relations, the Career Connection series gives students the chance to hear from a panel of graduates from their field of study. A pre-law event was held in September, and one focusing on careers in science was held in October. Two more events are in the works for the spring semester (visit www.csustan.edu/alumni [1] for more details as they are announced).
Stephen Routh, chair of the Department of Politics & Public Administration, served as moderator for the pre-law Career Connection. He said such opportunities are extremely valuable for students as they begin to consider the career paths available to them.
"These events directly and tangibly communicate to students the utility of a CSU Stanislaus education and degree and what future occupations may be available to them," Routh said. "The experiences of alumni serve as a particularly effective way of rounding out and enhancing student advising by filling in otherwise problematic information gaps."
Jennifer Reyes, a freshman pre-nursing major who attended the science focused Career Connection event, said being able to talk to a professional in her field and ask for advice was much more valuable than anything she could have found on the Internet. And seeing real-life examples of students who graduated from CSU Stanislaus and went on to successful careers has given her more confidence.
"I felt as if my life goals would interfere with my career goals, but after hearing from the panelists, I truly believe that all my goals are possible if I try hard enough," Reyes said. "I learned that I cannot be afraid to fail, because failure is a part of the process to success."