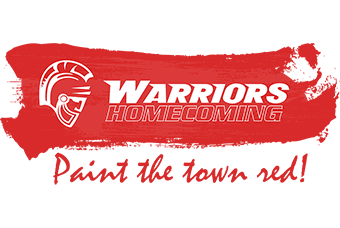 Calling all CSU Stanislaus alumni! We want you to help us "Paint the Town Red" and show your Warrior pride during Homecoming 2015. Join us as CSU Stanislaus welcomes alumni, students, parents, faculty, staff and the community to celebrate Homecoming Week, Feb. 2 to 7, 2015. Homecoming is a time when Warriors return to campus to reconnect with friends and celebrate the spirit and pride of CSU Stanislaus. 
The Office of Alumni Relations wants you back on campus. Whether your last time on campus was your graduation day or the last athletic home game, we want to welcome you back – CSU Stanislaus is your campus. A special bond is formed between a student and his or her alma mater, and we always want you to feel welcomed here during homecoming week and beyond.
With activities hosted throughout the week, there is sure to be an opportunity for everyone to reminisce about their time at CSU Stanislaus. CSU Stanislaus alumni employees will be honored at a luncheon, graciously co-sponsored by Associated Students, Inc. and the University Student Union.  All alumni are invited to attend the Homecoming Alumni Luncheon on Thursday, Feb. 5, 2015. Reacquaint yourself with the campus and sign up to take a tour from our student University Ambassadors. Join classmates at the pre-game reception before watching the CSU Stanislaus women's and men's basketball teams take on UC San Diego on Saturday, Feb. 7, 2015.
Watch your email next month for the full calendar of activities and how to RSVP for our homecoming events. Let's rally our Warrior pride and "Paint the Town Red" together – it wouldn't be any fun without you! Visit csustan.edu/homecoming [1] for additional details.
We also invite you to like us on Facebook [2], follow us on Twitter [3], and connect with us on LinkedIn [4] in order to receive the latest news about Homecoming 2015 and other CSU Stanislaus news and events.