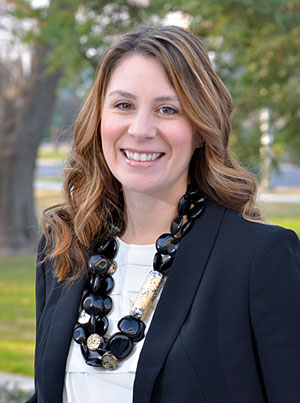 Lisa McMullen, Director of Alumni Relations
Dear CSU Stanislaus Alumni,
As we enter the last month of 2014, I'm reminded that one year ago, I started working as your Director of Alumni Relations.
So much can happen in a year — especially at CSU Stanislaus. We reopened the remodeled building Science 1 [1] — housed with a simulation lab for hands-on training for our nursing students, welcomed the new Dean of Library Services [2], Ron Rodriguez, and strengthened our ties to the community in many ways. One example of a growing partnership is One Purpose [3], the inaugural annual giving campaign that raised over $550,000 in six weeks with the support of alumni, friends and the University community.
The Office of Alumni Relations this past year has so much to be proud of and I'm truly honored to share the accomplishments that were made possible through your support.
In the past 12 months, we've implemented new programs and — I believe — have an increased visibility and a sense of pride for our alma mater. We've introduced the well-attended Career Connection [4] program, inviting alumni to share their professional journey and provide valuable insight about career choices and opportunities to our current students and recent alumni. The Dinners for 12 Warriors program is off to a great start — if you have an interest in opening your home to students, faculty and campus leadership for a good conversation, a time to reflect on your days as a student and share a meal with friends, please sign up today [5]! And we have met with alumni at receptions in and out of California. These activities contributed to alumni and CSU Stanislaus students participating in alumni events around the country.
Now I would like to spend some time sharing a project that our office is working on and excited to reintroduce in 2015: VINES! I know so many of you have been committed to supporting and attending Vines in years past, and we are delighted for Vines to be returning to our alumni and University community on March 19, 2015.
Vines is the primary fundraising event for the Office of Alumni Relations, with proceeds supporting student scholarships, alumni programming and campus projects.
At Vines 2015 [6] you will be reminded of what you came to love about this intimate evening of wine, craft brews and decadent bites, but also indulge in new elements geared to enrich your experience. A few of those include a new venue, offering additional space to reconnect with friends, as well as increased pairings and an interactive Wine Wall where you will be able to leave with a bottle of fine wine.
We are proud to highlight this event and the guest experience, but we are especially proud of what your attendance provides, which is support to current students through scholarships and our new alumni programs aimed at enhancing the student experience through career guidance and mentorship.
Thank you for your continued support. You have made my first year here truly remarkable, and I look forward to all we can accomplish together in the years to come. See you at Vines 2015!