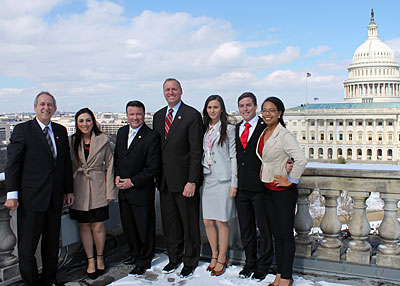 CSU Stanislaus President Joseph F. Sheley (from left) joins 
ASI President Mariam Salameh; Dave Tonelli, Associate Vice
President for Communications and Public Affairs; Congressman
Jeff Denham; and students Amber Deming,Caleb Wittstruck
and Tomara Hall in Washington, D.C.
Advocacy in the California State University system typically means trips to Sacramento to lobby state legislators for a bigger piece of the budgetary pie. But the CSU is affected by federal issues as well, and four CSU Stanislaus students learned firsthand what it's like to take advocacy to the next level.
The occasion was CSU Hill Day, an annual day of advocacy in Washington, D.C., held this year on Feb. 26. Four representatives from CSU Stanislaus' Associated Students Inc. (ASI) joined President Joseph F. Sheley and Dave Tonelli, Associate Vice President for Communications and Public Affairs, on Capitol Hill for a day of meetings with federal legislators.
The group focused its efforts on funding for Federal Pell Grants, student loans and work study opportunities, along with issues related to foster youth, veterans, and first-generation and underrepresented college students.
Amber Deming, an economics major and ASI's governmental affairs administrator, was one of the four students on hand. Deming, who wrote an article about the Hill Day experience for The Signal student newspaper, said it makes a difference when legislators hear directly from students.
"It is so important for students to be involved with advocacy on the federal level, because a lot of the aid and programs we receive are federally funded," Deming said. "When students go into the offices of legislators and explain their personal stories, it has such a great impact."
The CSU Stanislaus students joined their counterparts from CSU campuses at Bakersfield, Fresno, San Bernardino and Channel Islands. Following some introductory remarks from Chancellor Timothy White, the Stanislaus contingent visited with Congressmen Jeff Denham, Jerry McNerney and Jim Costa.
ASI President Mariam Salameh, who is studying for her Master of Public Administration degree, said the students' messages focused on federal funding, but also on regional issues of importance to the Central Valley legislators.
"When students have a voice and participate, it shows our representatives the effects of their decision making on higher education in the CSU system," Salameh said. "It also shows them the positive impact that more funding and support can have on students' lives and their future, especially in our region."
Tomara Hall is an experienced advocate for CSU Stanislaus. A senior with a double major in political science and economics, Hall also serves as the lobby chair for the ASI Warrior Street Team. Even though federal legislators have local offices, she said, there was something special about visiting them in D.C.
"They were reminded that student issues don't stop being issues when they leave their districts," Hall said. "The more they know that and the more they see our faces, hear our stories and hear the facts, the more they will come to find out that California's higher education is vital to California as a whole."