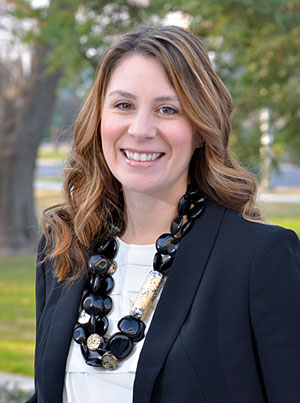 Lisa McMullen, a CSU Stanislaus alumna,
​is the university's new Director of Alumni Relations.
Lisa McMullen, the new Director of Alumni Relations at CSU Stanislaus, has seemingly been preparing for the role for years.
McMullen, who graduated from CSU Stanislaus in 2008 with a bachelor's degree in communication studies, focused her senior capstone project on what motivates alumni to engage with their alma mater.
And, like many alumni, she left CSU Stanislaus feeling well prepared to enter the region's workforce and with a desire to maintain connections she made on campus.
"The relationships I developed as a student have carried on to lifelong friendships that I cherish," McMullen said. "CSU Stanislaus professors have been instrumental in my personal and professional development, and the education and guidance I received at CSU Stanislaus are a big part of what has prepared me for this role."
As alumni director, McMullen will interact with the more than 50,000 CSU Stanislaus alumni, coordinating efforts that will include volunteer opportunities, networking events, fundraising and advocacy.
An alumni reception in San Francisco is being planned for April 9, and one will be held on campus April 24. McMullen said the first thing CSU Stanislaus alumni should do is update their contact information to ensure they are notified about such events and opportunities.
"There is a lot of excitement among our alumni and a drive to be part of this university," she said. "As alumni, we have a unique bond through our shared past."
McMullen previously worked at the University of California, Merced, where she served as Annual Giving and Stewardship Coordinator before moving into a career specialist role in the School of Social Sciences, Humanities and Arts. She said her experience working on fundraising initiatives, building an annual giving program and focusing on student success have equipped her well for rebuilding the alumni program at CSU Stanislaus.
A student's connection to their alma mater enters a new phase after graduation, McMullen said, and one of her primary goals is to ignite alumni pride in the university and help alumni reconnect with old friends and make new ones. That engagement and pride is what turns graduates into ambassadors, she said.
"My vision would be to have alumni who readily raise their hands to say, 'I'm a CSU Stanislaus grad,'" McMullen said. "I want people across the region, state and world to know that CSU Stanislaus is a place that nurtures greatness, leaders and agents of change. This will only happen if we all keep telling our story."