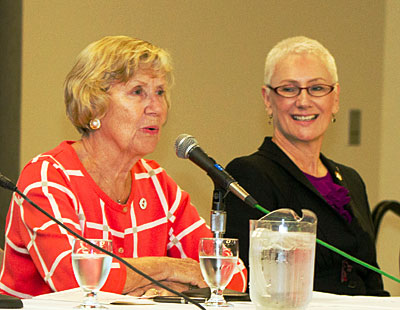 Beverly Finley (left) and Martha Connor were two of the three
​alumnae on the panel at the Women's Leadership Forum in March.
Four guest speakers — including three CSU Stanislaus alumnae — were featured at the fourth annual Women's Leadership Forum in March, hosted by the College of Business Administration.
The panel featured: Martha Connor, CEO of DirectLine Technologies; Beverly Finley, retired CEO of the Modesto Symphony Orchestra Association; Sharon Silva, CEO of the Turlock Chamber of Commerce; and Lynn Dickerson, CEO of the Gallo Center for the Arts. Conner, Finley and Silva are CSU Stanislaus graduates.
Linda Nowak, Dean of the College of Business Administration, said part of the inspiration for the event is the fact that 50 percent of CSU Stanislaus business majors are female, compared with only 25 percent of the faculty. The event is held in March to align with Women's History Month.
"I want our students to be able to see other successful women as role models," Nowak said. "This luncheon has become a forum for women from the community, students, staff and faculty to come together to celebrate our contributions to our families and our communities — to encourage others to look at ways that we can all make a difference."
President Joseph F. Sheley welcomed attendees and noted that many of the business leaders in attendance were CSU Stanislaus alumni.
"Our graduates hit the ground running and making a difference in the community," he said. "Seeing so many alumni in this room in particular reinforces the strength of leadership in our region."
The panelists spoke about leadership, education and career development, and also had the opportunity to answer questions from attendees.
"The experience that best prepared me for leadership was the opportunity to learn critical thinking skills," Connor said. "I was a good problem solver, and that provided opportunities for professional development that I would not otherwise have had."
On the topic of women in business, Finley said, "As an economics major, I was one of just two women — but things are changing. Overcoming stereotypes can be done with confidence and perseverance."
Among the accomplishments for which the panelists were the most proud, education rose to the top.
"I can't tell you how proud I was to get my B.A. — how proud I was to accomplish that dream," Silva said. "No one can take your education away from you. That education has provided me with a job where I can make a difference."
Dickerson noted that preparation pays off, especially for recent graduates.
"You never know when something great will land in your lap," she said. "While you are looking for a job, volunteer — you will gain experience, meet people and make connections that will help you along the way and could lead to a great job."