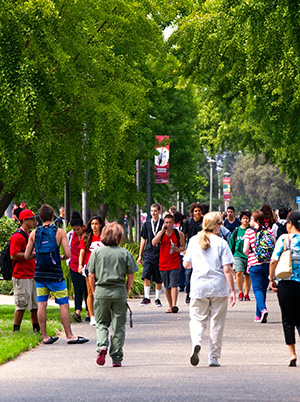 Welcome to California State University, Stanislaus, part of the largest, the most diverse, and one of the most affordable university systems in the country. Located in the agriculture-rich Northern San Joaquin Valley, our 228-acre campus gives our nearly 9,000 students a spacious and beautiful place for their studies.
We are about student success in education and in life. We offer undergraduate programs with a focus on providing the broad foundational skills needed in all fields — such as thinking critically and constructively, identifying and solving problems, and communicating well — as well as selective, high-quality postgraduate programs.
Our students engage in a vibrant university experience. They meet new people with similar interests and make lifelong friends through student clubs and organizations. They gain education through experience while giving back to the community through service learning projects. They expand their cultural horizons through study abroad opportunities. And they build meaningful and often lasting relationships with a campus community of students, faculty and staff who want to see them succeed.
Finally, we are a part of our region, both as a point of access to higher education for students and as partners in economic and social development. We educate, among others, the teachers who guide our children, the business leaders who propel our economy and the nurses who care for us. We are proud to be the region's university.
Thank you for your interest in Stan State. We look forward to seeing you on campus.
Joseph F. Sheley
President