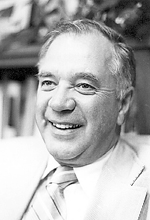 Walter Olson
President
1975-1985
Dr. Walter Olson became the college's fifth President on June 15, 1975, serving for nine years until his retirement in June 1985. He cited his long service as President and health-related reasons for his decision to retire at the age of 61.
During Olson's tenure as President, academic programs at the Stockton Center on the San Joaquin Delta College campus were expanded, an inter-active television network for class offerings was added, partnership programs with area school districts and community colleges were formed, Warrior Arena and an adjoining pool along with a new track and field facility were completed, and the Amphitheatre was installed.
Olson previously served at Western Illinois University where he was Dean of the College of Arts and Sciences. He served as Chair of the Department of Geography at San Francisco State before that and earned his Ph.D. in Geography and Economics from Syracuse University's Maxwell Graduate School, Bachelor's Degree at the University of Washington, and Master's Degree at the University of Puget Sound.