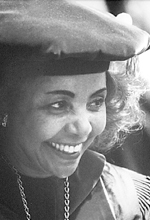 Marvalene Hughes
President
1994-2005
Dr. Marvalene Hughes became the eighth President of California State University, Stanislaus in August 1994 and served through June 2005. She has served as President of Dillard University in New Orleans since that time. Hughes previously served in a number of high-level administrative positions at major research universities, including the University of Minnesota, University of Toledo, Arizona State University, and San Diego State University.
As President, Hughes guided the University through a time of significant growth and campus development. Enrollment nearly doubled to more than 7,800 students, $135 million in new buildings and facilities were added, the first on-campus student housing was built, the University's Stockton Center moved to a permanent home now known as University Park, new academic programs were added in Agricultural Studies, Criminal Justice, Nursing, Social Work, and Fine & Performing Arts, national rankings were attained, the College of Business Administration achieved a long-sought accreditation, and more than $25 million in private funding was raised. She initiated international partnerships with universities in the Palestinian Territory, Ethiopia, South Korea, Portugal and the Azores, Taiwan, Thailand, and France.
Hughes served as a Commissioner on the Western Association of Schools and Colleges (WASC) Accrediting Commission, Chair of the Women Presidents of the American Association of State Colleges and Universities (AASCU) from 1999-2001, and Co-Chair of the African-American Presidents of AASCU since 2000. Hughes was selected by her colleagues to give the President-to-Presidents Lecture at the 1999 AASCU Annual Meeting in Puerto Rico.
Hughes earned her Ph.D. in Counseling and Administration from Florida State University, after studying at Tuskegee University, New York University and Columbia University. She has pursued post-doctoral study at three Harvard University Summer Institutes. Her career reveals a deep commitment to academic excellence, community service and partnerships with public/private sectors.