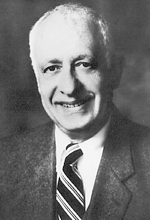 Lee R. Kerschner
Interim President
1992-1994
Dr. Lee Kerschner, previously a California State University Vice Chancellor, was appointed Interim President by then CSU Chancellor Barry Munitz in July 1992 after John Moore resigned to accept the Presidency at Indiana State University. He served for two years until Marvalene Hughes became President in August 1994.
Kerschner devoted much of his focus to leading the University through a healing period as it attempted to rebound from a series of earlier state budget cutbacks that forced staffing and program cutbacks. Ground was broken for the first on-campus student housing project, the Residential Life Village, during his tenure.
Since his service to Stanislaus State, Kerschner has continued to work as a Special Assistant to the President at the California Maritime Academy, as a consultant with the National Policy Center for Higher Education, and as Special Assistant to the CSU Chancellor. His previous administrative service included Executive Vice Chancellor of the Minnesota State Colleges and Universities, Executive Director of the California Commission for Review of the Master Plan for Higher Education, and Executive Director of the Colorado Commission of Higher Education. Kerschner holds a Ph.D. in Political Science from Georgetown University, a Master's Degree from The John Hopkins University, and a Bachelor's Degree from Rutgers University.
Kerschner, his wife, Helga, and family reside on a ranch in the California Sierra Nevada Mountain community of Weimar.