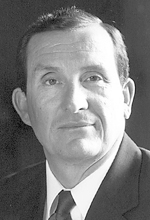 John Moore
President
1985-1992
Dr. John W. Moore served as the sixth President, succeeding the retiring Walter Olson on August 1, 1985, and leading the campus to university status in 1986 when it became California State University, Stanislaus. He served until June 1992 when he resigned to become President of Indiana State University.
Moore, previously a Vice President at Virginia's Old Dominion University who earned his Doctorate from Pennsylvania State University, led Stanislaus State through a strong period of growth that was curtailed by state budget cutbacks in his final year. Enrollment moved past the 5,000 mark and facilities were improved and expanded. A number of improvements in campus facilities were achieved, including the start of an expansion of the University Union complex. The University focused on improving its relationship with the community, and the athletic program moved up from NCAA Division III to Division II as competition levels toughened. Moore's last year in office was marked by serious budget cutbacks during a state budget crisis that forced the University to make staffing and program cuts.
Moore stepped down as President of Indiana State in 1999 and continued to teach in the university's School of Education and School of Business. He resides in Terre Haute, Indiana.