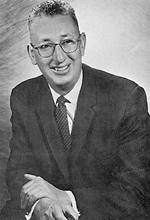 J. Burton Vasche
President
1960-1962
Dr. J. Burton Vasche was named the Founding President of California State University, Stanislaus on May 13, 1960. A native of Oakdale and graduate of San Jose State University with a doctorate from Stanford University, he had previously served as Chief of the Division of State Colleges and Teacher Education and an Associate State Superintendent of Public Instruction.
Vasche spearheaded the opening of then Stanislaus State College at the Stanislaus County Fairgrounds while planning took place for construction of the new campus on Monte Vista Avenue. With the primary focus of the new college initially on training teachers, Vasche directed the hiring process for the first faculty members as well as key administrators and staff before the first day of classes for upper division students on September 19, 1960.
The college celebrated a number of firsts during Vasche's two years as President, establishing the faculty constitution and by-laws, holding its initial commencement in January 1961, selecting the Warriors as the school mascot, publishing the debut issue of the student newspaper The Signal, holding dances and concerts, starting up athletic teams, and celebrating the first Warrior Day.
After dedicating himself to the startup of the college, Vasche's term as President was cut short in 1962 when he was stricken with cancer. He resigned on May 12 and died May 27 at the age of 51, turning over the duties to Dean of Students Gerard Crowley who was named Acting President. In recognition of the first President, the University later honored him with the naming of the Vasche Library.