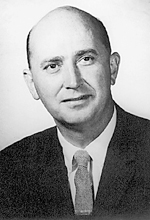 Gerard J. Crowley
Acting President
1962-1963
Gerard Crowley stepped in as Acting President for a little more than a year after the death of Founding President J. Burton Vasche. He joined Stanislaus State College in 1960 as one of its charter administrative staff members, serving as Executive Dean until his retirement in 1983. He died on December 17, 2007. 
Crowley guided the college through its temporary quarters phase at the Stanislaus County Fairgrounds while taking the lead for planning of the new Monte Vista Avenue campus which opened in 1965. During his time as President and then as Executive Dean, Crowley was involved in the planning of the new campus, coordinated construction of the first buildings, and oversaw development of additional facilities and buildings as enrollment grew. Other buildings constructed during his years at Stanislaus State included the Fine Arts Complex, Science Building, University Union, and Warrior Arena.
A native of Boston, Crowley previously served as a facility planner with the Department of Education and taught Naval Science at Stanford University where he did post-graduate work. He earned his Bachelor's Degree at Loyola University, Baltimore and Master's Degree in Education at Boston University.