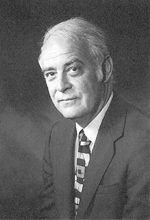 Carl Gatlin
President
1969-1975
Dr. Carl Gatlin became President on September 1, 1969, playing a leadership role in expansion of the University's science programs. Gatlin came to Stanislaus State from Drexel University in Philadelphia where he served as an academic administrator after starting out as a civil engineering professor. He had previously taught petroleum and mechanical engineering at the University of Texas and worked in the Texas oil fields with his father.
A graduate of the University of Southern California, Gatlin received his Doctor of Philosophy Degree from Pennsylvania State University.
The University's new Science Building was completed in 1972 during his term and the Stockton Center was established in a downtown Stockton building in 1974. Plans for more campus growth progressed to include approval of the gymnasium, cafeteria, and health center. Gatlin was a strong proponent of building up the college's business program to include computer and data processing training as part of a balanced liberal arts academic curriculum. The college added the winter term to its academic calendar in 1972 at the urging of Gatlin. He sought to boost enrollment and budget numbers at the young college at a time when some state officials were talking about closing it down to save state funding. Gatlin battled with faculty union leaders who repeatedly called for his dismissal over personnel hiring and retention moves.
After leaving Stanislaus State, Gatlin taught at Stanford University. He died of a heart attack at age 52 on January 22, 1977.