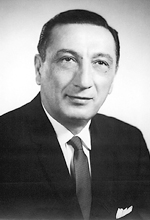 Alexander Capurso
President
1963-1969
Dr. Alexander Capurso, a research associate at the CSU Chancellor's Office and Professor of Creative Arts at San Francisco State University, was selected by CSU Trustees as President on March 11, 1963. He started as the new President on July 1 after Crowley had served for more than a year as Acting President.
Capurso had previously taught at Syracuse University where he was Director of the School of Music, University of Kentucky where he had earned his degrees in music, Ohio State University, University of Kansas, and University of Wisconsin. An accomplished violinist who played with the Philadelphia Symphony Orchestra, Capurso was instrumental in the development of the Stanislaus State Fine Arts Complex that houses the Departments of Theatre, Music, and Art. He had a vision for the campus as a center for the arts in the region.
Capurso guided the College through its move from the Stanislaus County Fairgrounds to the new Monte Vista Avenue campus where classes were first held in Fall 1965. The first freshmen and sophomore students were admitted at the new campus over the next two years, and the College began to develop more academic programs at its new home. Ground was broken during his term for the first student housing at Yosemite Hall on Geer Road. Capurso presided over the first Commencement ceremonies held on the new campus. He also instituted administrative changes and spearheaded expansion of Stanislaus State's academic programs and faculty.
After stepping down as President, Capurso conducted research and taught music at Cal Poly, San Luis Obispo where he served as Chair of the Music Department until retiring in 1977. He died at age 75 on August 6, 1985.