June 16, 2020
Dear Campus and Community:
In the last few weeks, we have borne witness to millions of people responding and protesting with shock, outrage, anger, betrayal, pain and profound sorrow across our nation and in our global community in response to the murder of George Floyd and many other African Americans by police or others who believe they have the moral authority to unjustly target, brutalize, punish and even kill people simply because they are Black. As a country, we bear the heinous past of having forcibly enslaved humans of another race; and yet, the presumed progress of Lincoln's Emancipation Proclamation in 1863, to the Civil Rights movement of the 1960s, and even the election of a Black president of the United States cannot adequately explain that this deep and insidious prejudice still continues to lurk in the consciousness of many in our country today.
America is at a critical tipping point in our history — in the midst of one of the most damaging pandemics and economic crises we have faced in recent history. Americans, especially those who are privileged by race or economic circumstances, have been forced to squarely face their reflection in the mirror, and as a society, we can no longer turn away and pretend to un-see the recurrent, deeply ingrained and vicious face of anti-Black racism that has plagued our nation for 400 years. This deeply seated racism has had deadly and ubiquitous negative impact on the daily lives of African Americans today, and finally we are listening to their stories.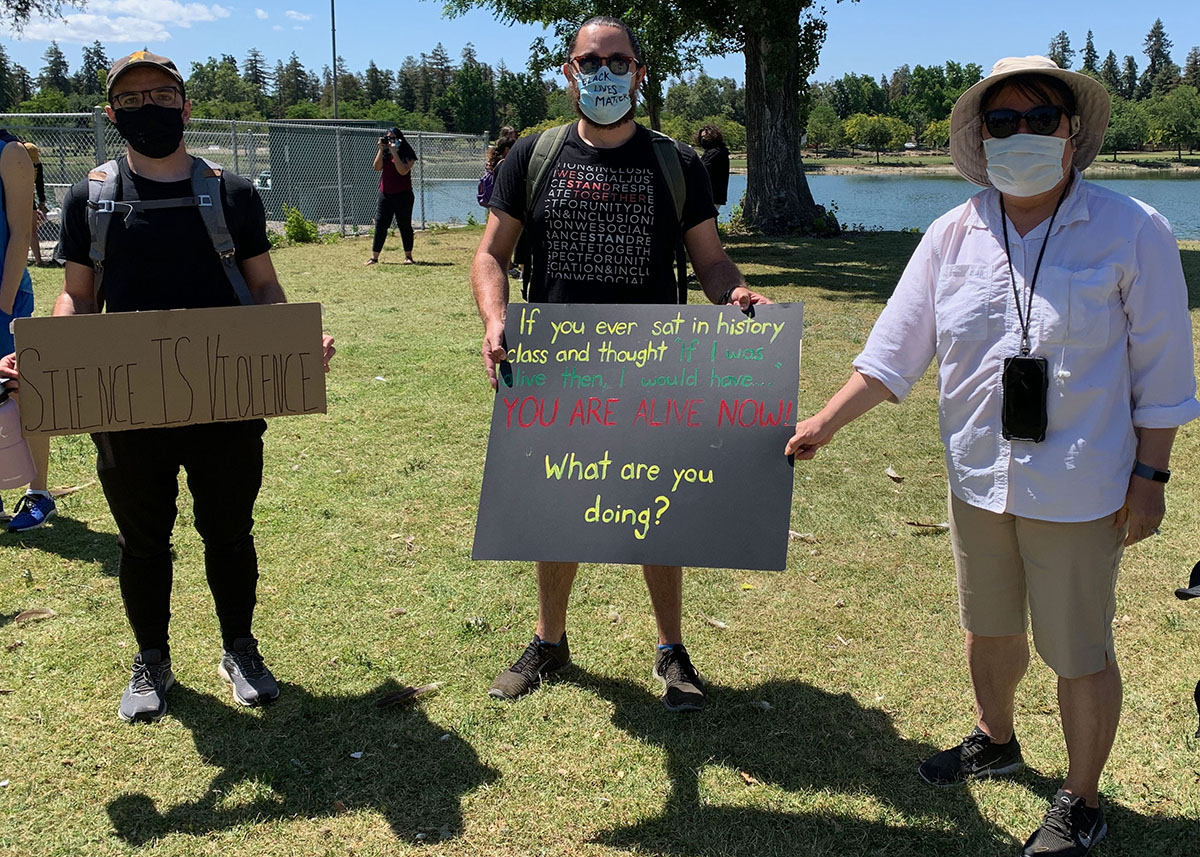 At Stan State, Black Lives Matter. We must ACT now to eradicate the old narrative and build a new and intentionally fair and just reality. Gone is the time of apologetic, erudite, compassionate — or what some would label as toothless — statements of sympathy from our leaders.
Furthermore, the plight of Blacks in America represents a critical warning for us a nation, because this cry for help and change must be heeded by all sectors of our country to protect and ensure the safety and well-being of our Latinx, immigrant, Indigenous and Native peoples, LGBTQIA+, people with physical, intellectual and developmental disabilities and other underserved groups in our communities. As a nation, we espouse beautiful and lofty ideals of democracy, freedom and prosperity, but tragically these opportunities are not equitably available to all.
It is time to move beyond mere words to real action, and here at Stanislaus State, the Cabinet and our campus leaders are deeply energized and committed to taking clear, proactive and intentional steps with all of you — our esteemed students, faculty, staff and community. Each vice president and Cabinet member is committed to taking a hard look at our infrastructure, policies and processes with an eye to identifying areas of inequity. Together we will then work with many of you who are willing to engage to proactively suggest and make changes to modify, build and co-create a new vision of social justice along with new action steps to tackle and dismantle racism and other prejudices at our University.
As an institution of higher learning, part of our responsibility is to elevate the discourse regarding race, ethnicity, social class and all forms of difference to ultimately shed light on injustices, to reaffirm and to act on our fundamental belief in the dignity, worth and inherent value of all people. We need to do what we do best — to educate and equip our students about societal inequities and how to work to constructively fight and eradicate racism and prejudice.
This critical process of self-examination, data and fact gathering is a necessary part of the process to implement change, but we must also accept and embrace the realization that these changes cannot take place without deep, difficult, respectful dialogue and courageous conversations so we can truly hear each other, with open hearts to learn, appreciate and understand the often complex and painful lived experiences of so many across our campus.
We have been listening, and many critical conversations are taking place throughout all levels of the campus community. We urge YOU to join in this campus dialogue and process for change.
First, as president, I made the important decision to continue to fund the budget for the President's Commission on Diversity & Inclusion (PCDI) even though as a system, all CSUs are bracing for significant budget reductions due to the pandemic's effect on the state economy. Second, we are identifying several areas for both long-term and short-term action steps. For example, some of the changes may include:
Short Term
Commitment to maintaining and possibly increasing funding for diversity, equity and inclusion initiatives;
Implement programming to support male students of color with newly hired program coordinator;
Work with student groups to implement changes that improve student experiences and opportunities on campus especially for Black, Latinx, Indigenous, Undocumented Immigrants, LGBTQIA+, students with physical, intellectual and developmental disabilities and other underserved groups;
Support the enhancement of faculty diversity through programming to improve retention of faculty of color;
Work with the California Faculty Association and others to co-host anti-racism workshops;
Provide relevant data to support informed decision-making;
Be proactive about campus affiliations with law enforcement; and more to come.
Long Term
More aggressively support work with Black and other oppressed groups both on campus and in the community;
Enact concrete plans to develop social justice student, faculty, staff and administrative leaders;
Proactively examine and change campus policies and processes that may be barriers to equity;
Support people of color for addressing institutionalized racism; and more to come.
We will utilize our President's Commission on Diversity & Inclusion (PCDI) as an organizing framework and central coordinating point. Created three years ago, the PCDI is led by Dr. Kilolo Brodie, chair, and Dr. Daniel Soodjinda, vice chair. We will continue to champion and address equity in at least four areas:  (1) campus climate – assessing and improving the campus climate and experiences of all students, faculty, staff and the community; (2) curriculum and programming – assessing and ensuring that the campus' courses and many campus and co-curricular programs acknowledge and support diversity and inclusion; (3) student and employee recruitment and retention – assessing, recruiting and retaining a diverse population of students, faculty, staff and administrators; and (4) community diversity – assessing, supporting and engaging with diverse internal, external and community advisory boards and other community partnerships.
As we continue to develop actionable next steps, I encourage you to actively participate (please check your email for the meeting URL) in the President's Commission on Diversity & Inclusion (PCDI) meetings throughout the summer:
Wednesday, June 17, 9-11 a.m.
Wednesday, July 1, 9-11 a.m.
Wednesday, July 15, 9-11 a.m.
Monday, August 3, 9-11 a.m.
We welcome you to join us in creating a more welcoming, just and humane Stanislaus State. We are excited to have your thoughts and ideas as we take firm, positive action steps! Be part of the solution and participate!
Sincerely,
Ellen Junn, Ph.D.
President
Michele Lahti, Ed.D.
VP, Univ. Advancement
Neisha Rhodes
Director, Pres. Initiatives
Nina Palomino
Special Asst. to President
Kim Greer, Ph.D.
Provost, VP Acad. Aff.
Gitanjali Kaul, Ed.D.
VP, SPEMI
Julie Johnson, J.D.
Senior AVP, HREOC
Christine Erickson, Ed.D.
VP, Student Affairs
Christene James
VP, Bus. Fin. & CFO
Rosalee Rush, Ph.D.
Senior AVP, Comm. Mkt.