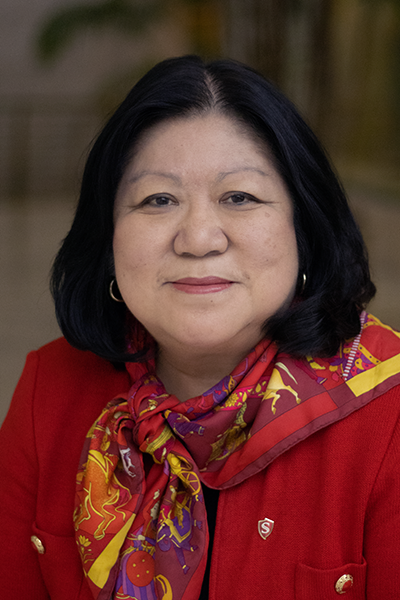 Ellen Junn became the 11th president of California State University, Stanislaus, on July 1, 2016. As President of Stan State, she has established a strong reputation for displaying a focus on implementing new and innovative programs for student success – especially for non-traditional students – and supporting a number of initiatives, including Freshman Convocation, Freshman Year Experience seminars and Design Your Life courses, as well as the building on state-of-the-art technology-enhanced Active Learning Classrooms (ALCs). Other initiatives have supported faculty success, with enhanced funding for research, scholarly and creative activity, use of high impact practices, and supporting numerous faculty learning communities.
Another key area of focus has been on promoting institutional inclusion. She established and charged the Presidential Commission for Diversity and Inclusion to create a new University Diversity Strategic Plan, which will constantly track progress for the campus and the community. In addition, she launched an innovative Presidential Scholars Program for First-Generation Central Valley students to provide an honors curriculum, internships, mentorships and tuition-free program for highly qualified freshmen and transfer students.
Dr. Junn has a remarkable and extensive 37-year history with the CSU, having worked at five other CSU campuses prior to joining Stan State. She served as provost and vice president at CSU Dominguez Hills, provost and vice president at San Jose State University, associate provost at Fresno State, associate dean of the College of Health and Human Development at CSU Fullerton, and assistant professor at CSU San Bernardino. She also was a visiting professor at Indiana University.
President Junn is widely published and has written numerous peer-reviewed research and journal articles on various topics, such as supporting the success of underserved students, the importance of university-community engagement and strategies for supporting non-tenure-track faculty -- especially women and minorities – as well as promoting the use of innovative experiential learning teaching strategies.
Countless students have attained baccalaureate and graduate degrees through her commitment to advocating pathways for the underserved. She has been recognized as an exemplary leader and fierce promoter for the California State University's diverse community of students, faculty and staff.
Among her numerous community leadership roles, Junn serves on the board of directors for the California Partnership for the San Joaquin Valley, a Governor-appointed board charged with collaboratively partnering with a wide variety of key Central Valley constituencies to initiate, recommend and advocate for a prosperous economy, quality environment and social equity throughout the Valley. She also serves as the President of the Central Valley Higher Education Consortium and is a member of the Stanislaus Community Foundation's Cradle to Career Leadership Team, ITHAKA Higher Education Insights, California Association for the Education of Young Children and the Association for Psychological Science.
President Junn earned a bachelor's degree in experimental and cognitive psychology from the University of Michigan, from which she graduated cum laude and received high honors in psychology. She obtained both a master's and Ph.D. in cognitive and developmental psychology from Princeton University. In addition, she holds a Management Development Program Certificate from Harvard University and a CSU-Knight Collaborative Program Certificate from the University of Pennsylvania's Wharton Institute for Research in Higher Education.
She is the first Korean-American woman president appointed in the U.S. to a four-year public institution. Academics is a family affair for Dr. Junn. Her husband, Allan Greenberg is a retired physics professor and her son, AJ Murphy and his wife Emilie Conolly are faculty in the History Department at Brandeis University.
President Junn's Official Portrait
Resolution: 300px/inch. Download color portrait:
Updated: January 17, 2023