This page provides basic instructions for creating Zoom meetings for use in Blackboard and Moodle course sites. (Jump to Moodle Info)
Blackboard
Introduction - Blackboard users can access a special Zoom "home page" for each of their courses that contains links to meetings and recordings relevant to the course.  Note: Because it is a Blackboard "Tool", the Zoom Meetings tool can be added as a Tool Link anywhere in the course for quicker access.
1. Select "Tools & Communication" in the course menu.
2. Click "Zoom Meetings" at the end of the tools list.
Note: Do not "hide" this link. Without access to it, students will not be able to join meetings unless they are given the meeting ID or meeting URL separately.
3. Arrive at the Zoom homepage for the course.
On the Zoom homepage for the course, instructors can schedule and manage meetings. Students can join meetings by clicking "Join" for individual meetings.  Everyone can access available cloud recordings of course meetings.
Moodle
Introduction - Moodle users can add links to individual Zoom meetings (or a recurring set of meetings) in any course section.
1. Click the "+ Add an activity or resource" link in the section that will contain the Zoom activity.

2. Select "Zoom meeting" in the list of activities and then click the "Add" button.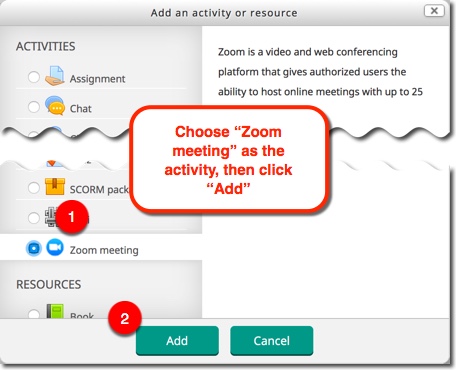 3. Provide a name for the activity and configure any other necessary settings, including enabling grading.
Note: Choosing "Recurring meeting" will disable the scheduling and duration settings of the activity.  The meeting will *always* be available to all members of the course.
4. Click "Save and return to course"