All Stan State students, faculty, and staff have access to Zoom for attending and hosting online meetings. Often, meeting participants will be expected to use a webcam to help make the meeting more engaging. However, as in face-to-face meetings, you must pay attention to your presentation and appearance in an online meeting so as not to fall into embarrassing habits.
Some on-camera tips:
Lighting your face more brightly than the background makes it easier to see you.
Keep your head high in the picture frame.
Dress appropriately: you are being seen!
Physical movement and facial expressions matter, just as in a face-to-face context.
Computer mics pick up lots of ambient noise, so keep your mic muted until you're ready to speak.
Remember that when on-camera, other activities such as eating, drinking, flossing your teeth, and shuffling papers are extremely unflattering and distracting.
Lighting, Location, and Framing Examples
Bad: Lighting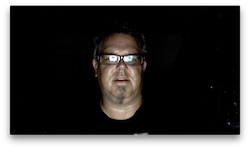 Recording in the dark (presumably late at night) results in "ghostly" appearance. Glasses reflect screen glare; turn down laptop brightness setting.
Bad: Location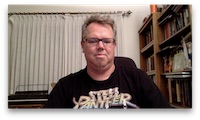 Cluttered, unattractive background could be distracting. Good light though!
Bad: Framing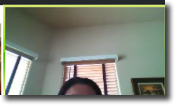 Laptop angle is also too low, resulting in "peeking" (or worse!) and unnecessary view of ceiling.
Very nice!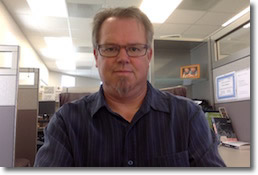 Good front light. Uncluttered background. Nicely framed pose.
Watch 5 Do's and Don'ts of Webcam Etiquette
Created by San Diego State, this video presents additional information about webcam etiquette.