Moodle is a system for course web sites that is used at Stan State in addition to Blackboard sites. Instructors have the option to use either Moodle or Blackboard for their course web site. This page offers some basic information about using Moodle. Click here for Blackboard assistance.
Moodle and You
» Login information
» Course enrollment information
Enroll in a Moodle course site using either a special enrollment key/password given to you by your instructor or a special enrollment link sent in an email from your instructor.
» Mobile access
Download and login to the Moodle mobile application to access course content on a mobile device.
» User profile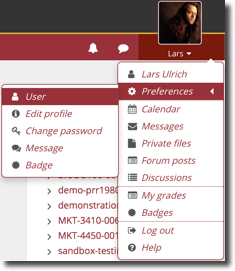 Open the menu in the upper right of the page to configure your Moodle profile.
**Your name** shows you how your Moodle profile looks to other Moodle users
Preferences > User allows you to set how you receive discussion forum notifications and your preferred language for using Moodle
Preferences > Edit profile is where you can add a profile picture to your account
Preferences > Change password does not work.  You cannot change your Moodle password separate from your Warrior password. If necessary,
Calendar shows you a view of all due dates and events that have been entered in any of your courses
Private files are for storing a small amount of personal files related to your Moodle coursework
Forum posts & Discussions shows you all your posts in Moodle and any discussion thread that you've started.
My Grades will show you your grades in every Moodle course you have access to, as long as the courses are still available to students.
Log out allows you to logout of the Moodle system. Quitting your web browser will also log out.
» User picture
It's easy to upload a user photo to your profile:
Click the profile picture
Click "Preferences"
Click "Edit profile"
Scroll down to the User picture area.
Drag an image file into the "New picture" area
Click "Update profile"
Participating in Moodle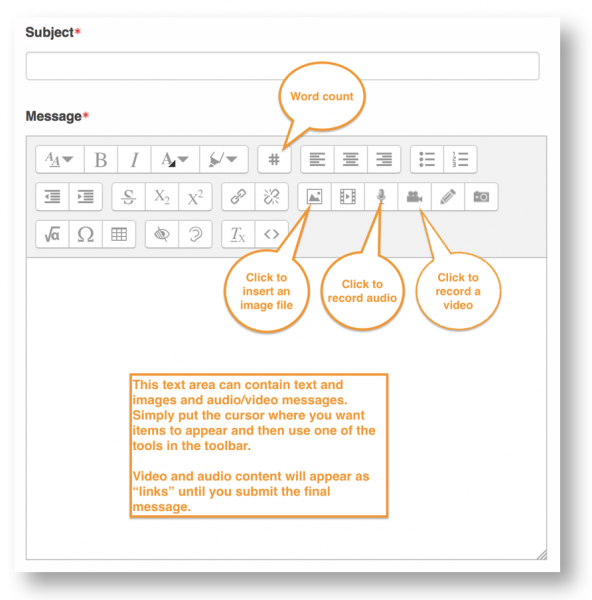 The Moodle text editor appears anywhere you will be contributing content to your course, for example when you participate in a discussion forum or answer a quiz question.
Study the picture on the right for information about the tools that are available in the text editor:
Type in the large area below the toolbar and format text using the standard formatting tools
Use the built-in webcam recorder to include a video recording in your response

Simply place your cursor on the line in your text where the video should appear
Click the black "movie camera" icon to open the video recorder

Image files can be inserted alongside your text and videos to make a truly multimedia contribution to the course.
Click the "#" button to see a word count of your entry
Click the "square root" button to constrict a mathematical formula
Hover your mouse over each icon to find out what it does
Submitting Assignments in Moodle
Part 1: It's easy to upload a document you've created on your computer into Moodle.  On the submission page for the assignment (or any page that allows file attachments), you can click the file upload icon (Option 1) to specify the file or (Option 2) you can simply drag the file from your computer directly into the submission box.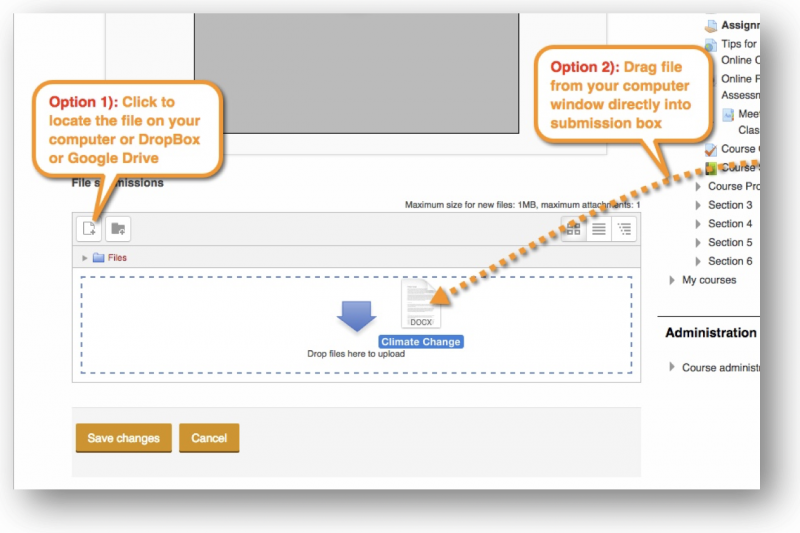 Need to connect to Dropbox or Google Drive to retrieve your document? Use Option 1 and click on the link for Dropbox or Google Drive, and then log in to choose from your stored documents!
Part 2: After you've uploaded the document, you might need to confirm the submission and finalize. This depends on how your instructor has set up the assignment.  Be sure to click "Submit assignment" or it won't be counted!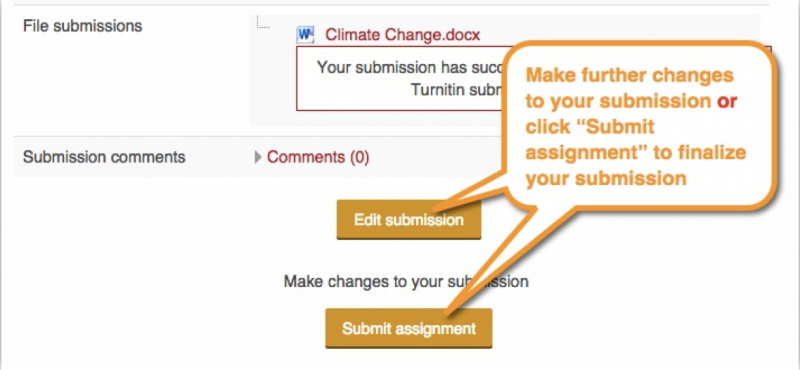 Check Your Grades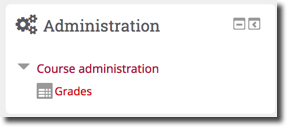 To see your grades in a Moodle course, click the "Grades" link in the Administration block located on the right side of the page.