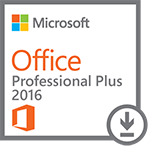 Faculty and Staff have access to the latest versions of Microcoft Office for both Windows and Mac.  This page provides an overview of how to acquire Office for either a university-owned computer or your personal computer.
At this time, students do not have access to personal copies of Office through any university-wide license. However, Office is installed on many of the campus computer labs.  For more information, please visit the computer labs page.
Access for University-Owned Computers
The Technology Support Desk can install the latest version of Microsoft Office onto your university-owned computer for free.  Contact the Technology Support Desk to schedule a service visit!
Access for Personal Computers
Faculty and Staff can purchase a home license for Microsoft Office for a nominal charge at the university's storefront located at csustan.onthehub.com. After purchase, the software can be downloaded and installed by the user. The purchase applies to a single personal computer.
Mac – Purchase Office Home & Business 2016 for Mac