User-Generated Video
noun
1. Any video object that is created by an instructor or students which enhances the social presence of an asynchronous course, in particular:
course welcome and syllabus overview.
short, personalized feedback on assignments.
icebreaker introductions by students.
regular weekly overviews of course content.
instructor check-in on course progress as needed.
multimedia lecture materials.
discussion posts by students.
Check this out: Five Tips for Creating Effective Learning Videos
Video Production Tips
Physical Space
Background should be boring but not sanitized
A modest, uncluttered bookshelf conveys "academia"
Outdoors can add flair, but lack of control can cause problems (wind, loud trucks, etc.)
Lighting
Do not record in the dark
Use real lights; do not rely on sunlight
Light should be even, with minimal shadows
Light should come from in front and above; light behind you will never illuminate your face!
Reduce computer screen brightness to avoid "glasses glare" reflections
Framing
Face should be positioned 2/3 – 3/4 from top of video frame
Adjust laptop screen angle to avoid "peeking" from below
Move your chair further back from the computer to create proper framing
Avoid "vertical video" if recording with a cellphone camera
Lighting, Location, and Framing Examples

Bad: Lighting

Recording in the dark (presumably late at night) results in "ghostly" appearance. Glasses reflect screen glare; turn down laptop brightness setting.

Bad: Location

Cluttered, unattractive background could be distracting. Good light though!

Bad: Framing

Recording in front of window makes face too dark and bright light is distracting. Laptop angle is also too low, resulting in "peeking" and unnecessary view of ceiling.

Very nice!

Good front light. Uncluttered background. Nicely framed pose.
Video Software Tools
1. Canvas Course Web Sites
Canvas video recorder
Tool icon located nearly everywhere a text editor appears.
Videos are recorded and stored directly within Canvas, no intermediary software required
Videos cannot be played outside of course
Closed captioning not available (include a typed transcript below video for all videos requiring accessibility compliance)
Panopto Recorder
Another choice for recording and embedding right on a Canvas page. Learn more about Panopto and Canvas.
Videos are stored in the Panopto recording library for the course
Videos can be shared outside the course
Speech recognition captions can be added to the video after processing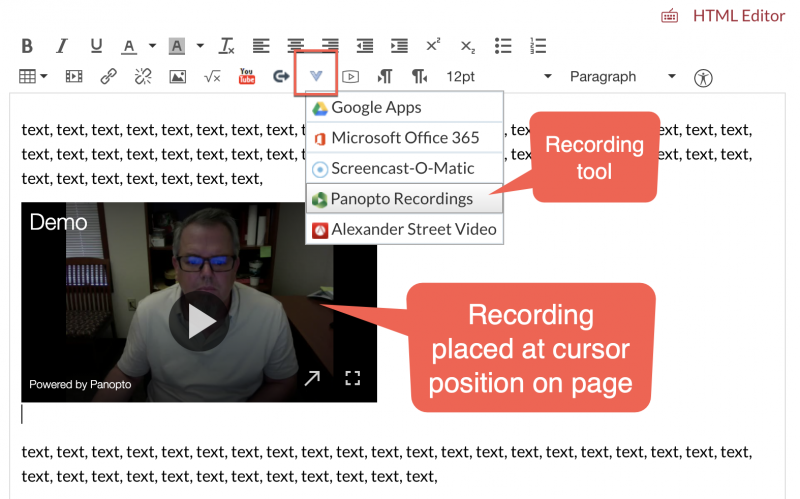 2. Slide-Based & Screencasting Tools
For information about these tools, please vist the Technology Tools page.
Video Production Assistance
Don't have a good place at home or in your office to record videos?  Need advice on how to make them look better?  Or, would you just rather someone else handle all the technical details of recording your delivery?
OIT's Learning Services department has a professional-grade studio at your disposal, along with staff to help you every step of the way toward making your videos look great.  Contact Jerry Anderson or Kevin Gassaway to get started!