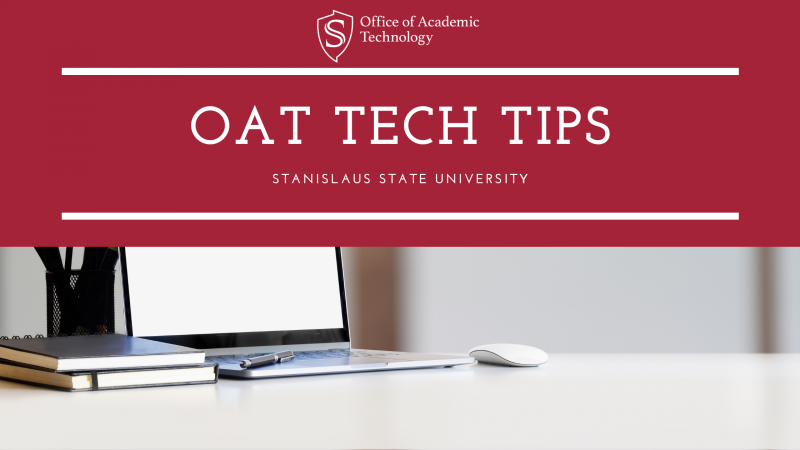 An ongoing blog of tech tips and announcements from OAT for the Stan State community.  
November 24, 2020
1. Deleting Panopto videos from a Canvas page

It's always good to add Panopto video to your Canvas course by embedding a video on a page, but sometimes you need to delete one. Unfortunately, the Canvas editor doesn't have an easy "one click" way to remove an embedded video because of the how the underlying HTML code works that makes embedding possible. Never fear!  Read our how-to guide for instructions on removing a Panopto video from a Canvas page.
2. Track students' progress in a live Canvas exam

When you give a timed exam synchrously using Canvas, it is possible to monitor your students' progress while the exam is open.  For example, this allows you to know at a glance who has finished and who is still working. To do this, simply open the quiz link in your course and then click Moderate This Quiz from the "Related Items" menu on the right. Students' progress will be indicated in the "Time" column of the page. To get further details about a specific attempt, click the student's name and then click the "View Log" link.
3. Use Turnitin with a Canvas grading rubric

Not only does Turnitin check student papers for plagiarism, it offers instructors a way to annotate, comment on, and grade submissions, with grades passed back to the Canvas grade book. But what if you want to grade submissions in the usual Speedgrader interface, with a Canvas rubric, while using Turnitin only for a quick plagiarism check?  Here's how: create the Canvas assignment first as a regular online submission assignment and then save. Next, create the Canvas rubric and enable it to be used for grading. Then (here's the cool part!), click the Edit button to edit the assignment and change the Submission Type to "External Tool", configuring it for Turnitin. Be sure to uncheck the box for "Load in a new tab". When it comes time to grade, simply click the assignment link in Canvas. This will display the Turnitin inbox so you can quickly see the originality scores of the submissions. Off to the right will be the usual SpeedGrader tool. Click that to read the submissions and assign grades using the rubric.
BONUS: Record webcam video in Canvas using Panopto Capture - no software required

Panopto Capture is a feature in Panopto that enables all Stan State users to record their webcam and/or desktop without the need to download and install any software. Do this wherever you can access Panopto, such as in a module, or by editing a page, or by posting a reply in a Canvas discussion, etc.  First, launch the Panopto integration and click the "Record" tab. Second, supply a name for your new recording. Third, click the red "Launch Capture" button.  View screenshot. The Panopto Capture tool will open and you can begin your recording.  After finishing, stop the recorder and wait for Panopto to process your video. Then, close the Panopto Capture tab to return to Canvas.  Click the "Insert" button to insert the video. Read more information on how to use Panopto Capture. 
Note: Panopto Capture is recommended over Canvas' built-in video recording tool because Panopto will automatically create and insert closed captions. If desired, students may use the built-in Canvas recorder for recordings that will only be viewed by the instructor.
October 16, 2020                                
This update covers recent improvements to Panopto and VoiceThread.
1. Automatic importing of Canvas-Zoom meetings to Panopto
If you schedule a meeting using the Zoom link in Canvas, the recording will automatically be copied to the course's Panopto library. Zoom meetings that are not scheduled using Canvas are not automatically copied and must be moved manually for the time being. Once the recording is in Panopto, you can make it available in Canvas in a variety of ways, and even add a quiz to it!
2. Automatic captions on all Panopto recordings
Good news! When you upload a video to Panopto, machine captions are now automatically added to the video soon afterward. It's important that you review the captions to fix any issues with proper names or technical terms.  The captions also function as a transcript that can be searched on the video's page in Panopto.
3. Improved VoiceThread assignment workflow available Oct. 19
VoiceThread has developed a more efficient workflow when it comes to creating and grading assignments. For example, gone is the need to create two links in a course when you want students to create and share a VoiceThread with the class. The improvements will also make it easier for students to understand what they need to do to complete an assignment. Instructors can begin using the new workflow on Monday, Oct. 19.  The full switch-over will happen on June 30, 2021. Read the Instructor Guide (w/ demo video)  ||  New assignments overview
BONUS: Create appointment sign-up in Canvas
Use the "Appointment Group" feature of your Calendar in Canvas to create a digital sign-up sheet where students can make an appointment from a list of available times, such as for office hours. Appointment Groups can be publicized to all of your courses or just specific ones. Professor Sandra Vierra (Biology) has kindly recorded a video demonstration of this very cool tip. Thanks, Sandra!  Watch video  ||  Complete Canvas documentation
October 2, 2020                                       
This update's tips cover all things "Panopto".
1. Use Panopto to store video files
Uploading a video file directly into a Canvas course is not recommended because of file upload limits as well as accessibility issues. Instead, use Panopto! All instructors have personal video storage accounts as well as Panopto folders for their Canvas courses. To get started, login to Panopto and click "Create" to begin uploading your media files.
2. Add a Panopto video to a course
In Canvas, add a link to a Panopto video in a course module. Or, embed your video on a course page.  Blackboard and Moodle courses can share a video via URL.
3. Track Panopto video engagement
When you add a Panopto video to a Canvas course (see Tip #2), you can also get information about which students have watched it and how much they've seen. Learn more about session statistics.
BONUS: Make your PowerPoint slides searchable in Panopto
In addition to speech transcription, Panopto can also read and transcribe your PowerPoint slides during recording. This means the text on the slide will be searchable by viewers who may want to review that portion of your recording. In the Panopto Recorder, simply check the "Record PowerPoint" box in the Slides panel of the recording setup. Bonus Bonus (because you've read this far...): if you use slide titles in the PowerPoint file, Panopto automatically converts the titles into a Table of Contents in the final video.
September 25, 2020                                 
This update covers some common questions related to Canvas.
1. Add custom links to the course navigation in Canvas
Canvas' navigation menu is generally not editable by instructors, but did you know it's possible to add a custom link? Do this using the Redirect Tool found in the app list of the course Settings. You can add as many custom links as you like and they can be reordered in the navigation list just like any other item. Learn more at Redirect Tool instructions.
2. Rename a course in Canvas
Sometimes Canvas' user interface makes it impossible to tell courses apart, especially when you're teaching multiple sections of the same course. The solution? Simply edit the name of the course on the Settings page to something more distinct. Be sure to make the new course name recognizable to students!
3. Use Turnitin with Canvas
Stan State's site license for Turnitin is readily available in Canvas – no need to add the app to your own course. Instead enable Turnitin as an External Tool submission type in an assignment. Learn more at Turnitin + Canvas instructions.
BONUS: Allow students to choose their own breakout rooms in Zoom – just announced
Quick, update the Zoom software on your computer to version 5.3! Zoom has updated breakout rooms so meeting hosts can now allow participants to choose the breakout room they want to join. You can also allow them to move from room to room on their own. All meeting participants must be using Zoom 5.3 to take advantage of this new functionality.
For questions about any of these tips, please contact oat@csustan.edu.