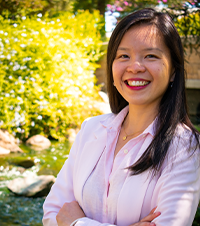 Director of Academic Technology jteoh@csustan.edu
Ed.D, Illinois State University (Curriculum & Instruction)
M.A., Saint Mary's University of Minnesota (Counseling)
B.A., University of Northern Iowa (Psychology, Public Relations)
My name is Jase Teoh, and I am the Director of Academic Technology at Stanislaus/Stan State or California State University, Stanislaus. Before coming to Stanislaus State, I was the Director of Educational Technology at Saint Mary's College, CA for three years and have six years of prior experience as a Faculty Instructional Technologist at SUNY Empire State College, Long Island, NY while also serving as an online adjunct instructor for the Master of Arts in Learning and Emerging Technologies program. My learning interests include educational technology, organizational development, leadership, instructional design, information technology, change management, the future of higher education, and learning/motivation theories. When not working, I enjoy hiking, bikram yoga, traveling, watching movies, reading, journaling, and tinkering with academic technology tools. I also enjoy authentic and meaningful conversations over a cup of coffee and discussing or listening to about anything under the sun (spirituality, faith, philosophy, theories, culture, food) and so forth. Feel free to reach out to me at jteoh@csustan.edu.
Glenn Pillsbury, Ph.D
 Instructional Designer/LMS Expert gpillsbury@csustan.edu
Glenn Pillsbury has been at Stan State since 2009, hired as the campus's first instructional designer.  He previously held educational technology positions at University of the Pacific and UCLA.  Glenn graduated from UCLA with a PhD in Musicology in 2003 and later published his dissertation on the heavy metal band Metallica with Routledge. He lives in Stockton. Contact him at gpillsbury@csustan.edu.
Tom Siechert, MBA
ATI Instructional Designer tsiechert@csustan.edu
M.B.A., California State University, Fresno (with distinction)
B.S., California State University, Fresno (Business Administration, Information Systems)
My name is Tom Siechert, and I am an ATI Instructional Designer at Stan State. Before joining the Academic Technology team at Stanislaus, I was the ATI Procurement Program Manager at Fresno State for seven years, and prior to that I was the senior Technology Buyer for ten years. I have worked on the CSU Accessible Technology Initiative (ATI) since 2006 and served as a subject matter expert on the systemwide CSU Accessible Technology Network since 2012. My learning interests include instructional design, UX design theory, inclusive learning, entre/intrapreneurship, process improvement, and accessibility testing. When not working, I enjoy listening to music, reading, spending time with the family watching movies, going out to eat, or getting lost using one of my many tech devices. Feel free to reach out to me at tsiechert@csustan.edu.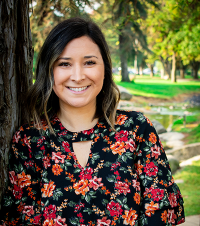 Maribel Duran, MA
OAT Program Coordinator mlopez21@csustan.edu
My name is Maribel Duran, and I am the Program Coordinator for the Office of Academic Technology. I am a proud Stan State Alumni and have had the opportunity to be part of a team that genuinely cares about the success of all faculty and students here at Stan State. Before joining the Academic Technology team, I was a teacher at Turlock Christian School for five years. I currently assist faculty with academic technology and help coordinate workshops to better support our faculty through the transition over to Canvas. My learning interest includes higher education, cognitive development, educational technology, and instructional design. When not working, I enjoy spending time with my family, watching movies, traveling, reading, swimming, and baking. Feel free to send me an email at mlopez21@csustan.edu.