This page provides basic information about the new Rich Content Editor in Canvas. The new editor will become the default editor on January 16. The change is an update by Instructure to Canvas' core programming and is not a change being made by OAT.  The change affects all users of Canvas, including students.
What is changing?
Instructure has redesigned the Rich Content Editor (RCE) in Canvas, with the new version coming online on January 16. The RCE is the tool used to edit and construct rich content (e.g., discussion posts, assignment instructions, essay question answers, etc.). While the new version is broadly similar to the old/current RCE, it has noticeable changes to the layout and organization of various tools.
Old RCE vs New RCE
The following images depict the old RCE compared to the new one.
Old RCE
Bounded rectangles shown below are areas of the interface that are changing in the new RCE.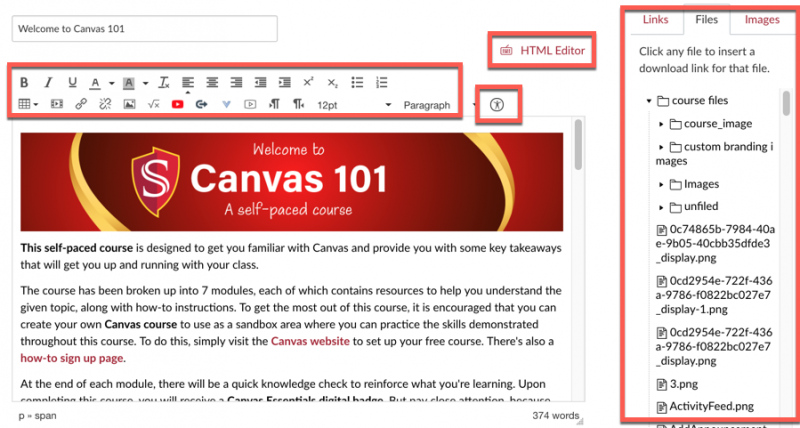 Overview of changes:
The permanent right-hand sidebar for adding links to course items is being removed and replaced with a different interface for linking to course content items.
The accessibility checker, keyboard shortcuts, and HTML editor are moving below the content area.
The two rows of tool icons are being reorganized into a single row with several subgropus and menus.
New RCE
Bounded rectangles show areas that are changing in the new RCE.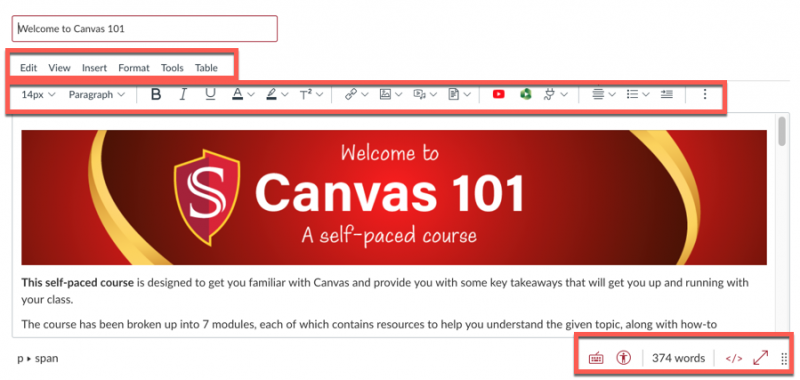 What has changed?
A new command menu now appears above the content area, much like the command menu of a regular word processor or software application.
The tool icons have been reorganized into a single row of logical groups. From left-to-right, they are: Text sizing; Text formatting; Inserting links, images, and recordings; Special tools (i.e., Panopto); Paragraph and List formatting

Note: the math equation editor can be accessed from the "Insert" menu or from the 'three-dots' item on the far right of the toolbar.

Accessibility checker, HTML editor now below the content area.
Editor can be expanded to full-screen if desired (double-headed arrow).
While editing, the toolbar remains 'glued' to the top of the window regardless of how far the page is scrolled.
Additional Resources
FAQ
Why is this change occuring? Who made the decision to change?
Instructure regularly makes updates and improvements to Canvas that are not controlled by OAT. The rollout of the new RCE is part of that process.
Can I continue to use the old RCE after January 16?
No. The new RCE will be the only RCE available in Canvas beginning January 16.  Choice of RCE is not a user-selectable setting.
Questions?
Contact oat@csustan.edu if you have questions about using the new RCE.